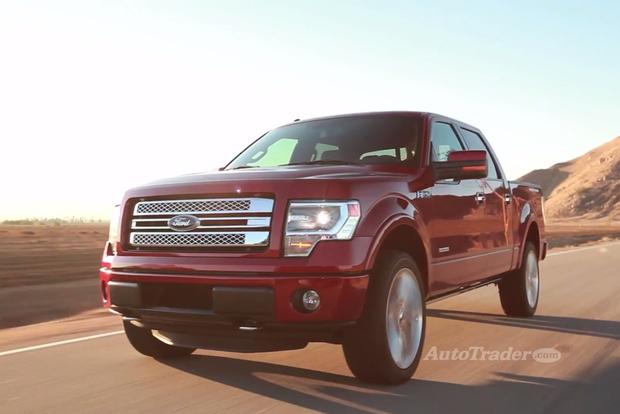 Quick, what's the best-selling car in America? That's a trick question, because it's actually not a car -- it's the 2014 Ford F-150. Americans can't get enough of Ford's iconic pickup truck, and that will come as no surprise if you've driven one. The F-150 is good at just about everything, whether you need a work truck or an all-purpose family vehicle. Although the competition's stiff, we have five reasons why the F-150 is still a top choice.
Great Engines Across the Board
No matter which engine you choose for your F-150, it's going to be a good one. Even the entry-level 3.7-liter V6 is a winner, with over 300 horsepower, while the two optional V8s can really haul the mail. Then there's the twin-turbocharged EcoBoost V6, which cranks out 365 hp and still gets up to 22 miles per gallon on the highway. It's an embarrassment of riches under the hood.
Smooth, Quiet Ride
Ford knows a modern truck has to be as comfortable as it is capable, and the F-150 delivers with one of the best big-truck rides we've experienced. It's smooth even without any cargo in back, and the cabin stays as quiet as a luxury car on the highway.
Many Models and Configurations
Variety is an F-150 hallmark, and the current model has roughly 10 trim levels, three cab sizes and three bed lengths. Whether you want a basic workhorse or a luxury truck, the F-150 has you covered. Plus, this year you can get the special-edition Tremor sport truck, which is the first regular-cab F-150 to have the EcoBoost V6. There's also a Raptor Special Edition with exclusive paint and upholstery that complement the 411-hp V8.
Up-to-Date Technology
If you're buying a truck these days, you probably expect a full array of high-tech gadgets inside, and the F-150 is happy to oblige. Technology highlights include the available MyFord Touch interface, with its crisp touchscreen and dual USB ports. Other options include dual-zone automatic climate control, a color trip computer and premium Sony audio, and all trucks from the XLT on up get standard xenon headlights.
Crazy Capability
The F-150 is so capable that it's hard to imagine a job it couldn't do. Even the base V6 can tow around 6,000 pounds, while the more powerful engines can tow over 11,000 pounds. Unless, say, you need to tow your house off its foundation, rest assured that the F-150 will get the job done.
AutoTrader Says
The 2014 Ford F-150 is America's best-selling vehicle for good reason: It does just about everything well, and it's been doing it for decades. If you're shopping for a big truck, the F-150 is a must-drive.