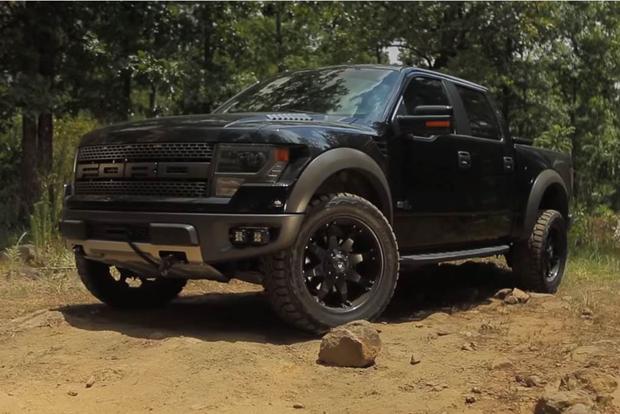 If you know anything about trucks, you probably know that the Ford F-150 SVT Raptor is awesome -- and expensive. But here's the good news: With the all-new 2017 Raptor rolling out soon, there are some great deals to be had on previous Raptor models.
We headed out to Durhamtown Off-Road Park to check out the Raptor and its wilderness credentials. The 2014 Ford F-150 SVT Raptor originally sold for around $85,000 brand-new. That includes a Roush off-road package and other aftermarket upgrades. The result is 590 horsepower, bigger wheels and a borderline-obnoxious exhaust note. However, on Autotrader, you'll find 2014 Raptors with a fairly wide range of prices -- it really comes down to how a particular truck is equipped.
For extra peace of mind, consider buying a certified pre-owned (CPO) F-150 Raptor. Ford's CPO coverage includes a manufacturer 7-year or 100,000-mile powertrain limited warranty from the original in-service date, plus a 12-month or 12,000-mile comprehensive limited warranty that kicks in once the new-car warranty expires. So there are definitely some deals to be had. And even if it's still out of your price range, it's always fun to look.
With its standard 6.2-liter V8, the Raptor gets about 11 miles per gallon in the city and 16 mpg on the highway. Not great, but who are we kidding? If you're really considering buying a Raptor, off-road action is what you're into, not gas mileage.
The Raptor can handle most off-road situations you throw at it thanks to a high-performance suspension system and Fox shocks. And expectedly, there's plenty of underbody protection. Ford says the Raptor has about 9.3 inches of ground clearance, so you can negotiate fairly rocky terrain without a problem. You also have tow hooks and an auxiliary switch rack so you can add a winch, lights or any other aftermarket gear you may need. And with the 6.2-liter setup, you can safely tow up to 8,000 pounds with the help of the Raptor's backup camera and trailer-brake controller.
When it comes time to haul a payload, the Raptor's 5.5-foot bed also features an integrated tailgate step and a bed-extender that flips over and can be used as a divider. Handy and practical, indeed.
Aside from being a really capable truck, the Raptor is also pretty comfortable. It's surprisingly quiet, and luxury touches like heated and cooled leather seats with lumbar control and a Sony sound system may help you relax at the end of a long day.
The Supercrew 4-door version of the Raptor features a very spacious back seat. And with a quick flip of the seatback, you've got quite a bit of additional cargo space, too.
But there are a couple of gripes we hear from a lot of owners. One, the interior feels a little dated, with hard plastics here and there. Secondly, the truck lacks push-button start. Also, before you buy the Raptor, take note of its height and width -- it's large enough that it might not fit in your garage.
In terms of tech, you'll enjoy the usual gadgets like Bluetooth, MyFord Touch with dual USB ports and navigation.
As for safety, the 2014 Ford F-150 SVT Raptor has scored high marks in crash tests, and it seems to be reasonably reliable as well.
If you're seeking a tough-looking truck that's both comfortable and capable off-road, perhaps your search is over. A late model Raptor could be the way to go.