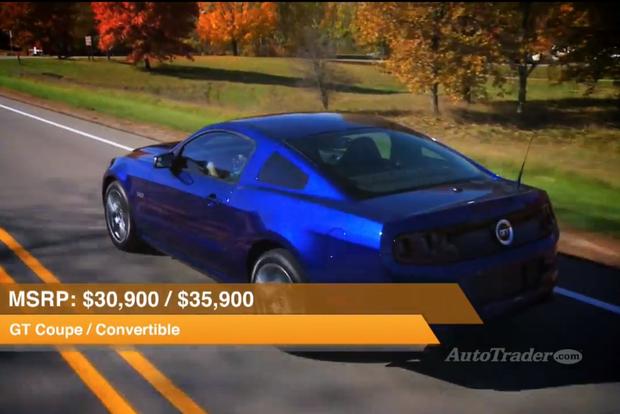 When you're talking about classic American muscle cars, only a few share the stage with the 2014 Ford Mustang. Ford recaptured much of the magic of the original 1964 Mustang with this current generation Mustang, and the 2014 model holds the line without any dramatic changes.
There's no mistaking the Mustang's all-American exterior. It still looks fresh and ready to play either as a coupe or convertible, offering new appearance packages.
Within the Beast
The front seats are comfortable with good support, and there's enough room up there for two adults. But for those in the rear, the story is different. It's cramped back there, with limited headroom and legroom.
However, this pony has no shortage of technology, which includes the SYNC voice-activated infotainment system that can be used to stream mobile apps such as Pandora and read incoming text messages. We also recommend the available 8-speaker Shaker 1,000-watt audio system if you really want to push some sound.
Unfortunately, there's no telescoping feature on the steering column, so it's difficult to dial in the perfect driving position. And there are too many hard plastic surfaces throughout this cabin.
American Muscle
The base Mustang 3.7-liter V6 engine produces 305 horsepower and 280 lb-ft of torque but still delivers respectable fuel economy. Most buyers won't require more muscle than that. Those who do can step up to the 5.0-liter V8 in the GT with 420 hp and 390 lb-ft of torque. Either way, a 6-speed manual or a 6-speed automatic transmission with a manual shift feature are available.
The 2014 Mustang is a real handler with quick responses. And with the optional V6 Performance Package or the GT Track Package, the Mustang becomes a serious sports machine with an ample dose of agility.
For the best fuel economy, go with the V6 coupe with the automatic transmission. It rates at 19 miles per gallon city/31 mpg hwy. The more performance-driven 5.0-liter with manual gearbox is a lot thirstier at 15 mpg city/26 mpg hwy.
Performance Bargain
The 2014 Ford Mustang qualifies as a genuine bargain. The base V6 coupe stickers at barely over $22,000, while the GT coupe has an MSRP of close to $31,000 before extras. Tack on another $5,000 for convertible editions. The Mustang competes head-to-head with the Chevrolet Camaro and Dodge Challenger, just like it did during the Muscle Car Era. Even the Hyundai Genesis Coupe is in the mix but doesn't have that classic American mojo.
Pony Car for the Ages
The Ford Mustang started the whole Pony Car movement 50 years ago, and the 2014 edition of this world-famous vehicle is still a winner. The interior misses the mark a tad, but overall the love affair that millions of people have had with this American icon is far from over.