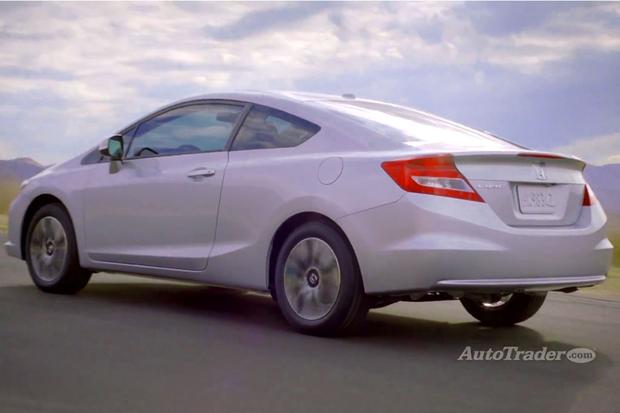 Although Honda has long been a leader in the compact-car segment, it faces some tough competition from cars such as the Mazda3 and Toyota Corolla. The 2014 Honda Civic is upgraded inside and out to offer better fuel economy, an improved interior and more standard features.
The Civic is offered as a practical sedan or a sporty coupe, with seven different trim levels to choose from. Traditional trim levels range from the base-model LX, to the highly equipped HF and EX, and the upscale EX-L. Our test model was a Civic EX with leather interior and a navigation system. For drivers especially interested in fuel economy, Honda also offers the Civic Hybrid and natural-gas models. Those looking for performance will want to check out the more powerful Civic Si.
Most Civic models are powered by a 1.8-liter 4-cylinder engine that's mated to a newly available continuously variable automatic transmission for a smoother ride and better fuel efficiency.
For 2014, the Civic sedan's popular exterior hasn't changed that much, but the coupe's restyled front and rear give it a much more modern look. Overall, the Civic now looks like a smaller-sized Honda Accord -- a perception that continues inside, as the interior is larger than you'd expect for a compact car.
Driving the Civic is an effortless experience with an excellent ride and good handling compared to other compact cars, although the Mazda3 does feel sportier.
Compared to the Toyota Corolla S, the Civic EX with leather seems a little nicer inside, and we like the Civic's silver trim and soft-touch surfaces. On the other hand, we're not as excited about the ultramodern dash with its 2-tiered look, as it can get confusing.
The Civic's base model includes a long list of standard features, including remote entry, power accessories, a 5-inch screen and Bluetooth, showing a good value considering the car's sub-$20,000 starting price. As you move up in trim levels, the Civic adds available features such as push-button starting, a 7-in touchscreen, a power sunroof and heated leather seats.
Drivers who choose Civic EX and EX-L models get HondaLink, which allows you to easily access your favorite smartphone apps and contacts. These models also include a 3-way backup camera, though we think that the image looks a little grainy and distorted compared to cameras in some rival models.
The Civic is solid when it comes to safety, receiving an overall 5-star rating in government crash-testing. We're also impressed with Honda's LaneWatch blind spot monitoring system, which now comes in the Civic's EX and EX-L models. Civic Hybrid models come standard with forward-collision and lane-departure warning systems.
When you start adding features such as 18-in wheels and a rear spoiler, the Civic can get pricey -- around $27,000. Thankfully, the base model comes nicely equipped, so you can get a good car at a decent price.
With a fresh new look, an improved interior and better fuel economy, the 2014 Honda Civic is definitely worth checking out.