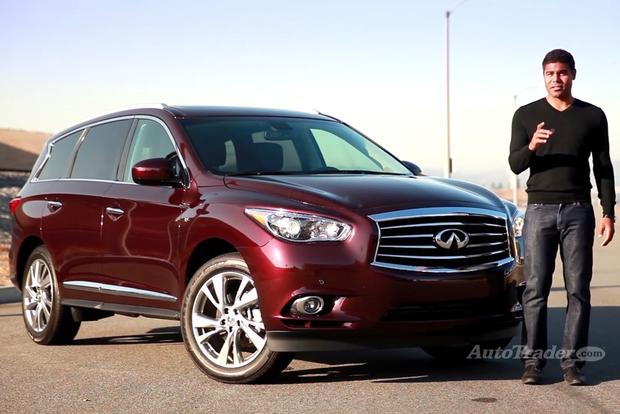 If you need three rows of seats in a luxury crossover, you have a lot of choices these days. But the new 2014 Infiniti QX60 makes a strong case for your cash. Based on the Nissan Pathfinder, the QX60 delivers family-friendly features with an upscale vibe, and it's rather sensibly priced relative to some premium-brand crossovers. Here are five reasons to take a closer look.
1. Flexible Seating Options
One of the QX60 model's claims to fame is its roomy, versatile seats. The second row slides more than five inches fore and aft -- and the seat backs recline, as well. As for the third row, it's unusually adult-friendly, swallowing 6-footers with ease. The standard tri-zone climate control system lets rear passengers create their own little microclimate. Throw in the optional dual-screen rear entertainment system and your passengers will never want to get out.
2. Pillow-Soft Ride
Infiniti is generally known for firm, sporty suspensions, but the QX60 breaks with tradition. The ride is so soft that you might have flashbacks to old Cadillacs from the '70s. Not that there's anything wrong with that; in fact, we wish more crossovers would forget the sporty stuff and just focus on comfort, because that's what most people expect in a family vehicle. If you prefer to glide over rough roads rather than feel every crevice, the QX60 is right up your alley.
3. Big Cargo Bay
If you get a 3-row SUV, you might want to haul stuff around with it sometimes -- and the QX60 is ready to go. Fold down the second- and third-row seats and you have about 76 cu ft of cargo space. If you do the math, that's a lot of cases of your favorite beverage right there. Or you could take the QX to the home-improvement store and load up on lumber. It's like having a family vehicle and a pickup truck in one.
4. Innovative Safety Features
We know safety's a top priority, and Infiniti does, too. Available features include a forward collision mitigation system with automatic emergency braking, a rear radar system that alerts you to obstacles as you back up and a lane-centering system to keep you between the lines.
5. Technology out the Wazoo
If you're into tech, you'll be out in the driveway playing with the QX60 for hours. It offers a 360-degree parking camera, hard-drive navigation, Bose audio and even a rear entertainment system. And keep an eye out for the high-tech QX60 Hybrid, which boosts fuel economy without compromising anywhere else.
AutoTrader's Advice
The 2014 Infiniti QX60 hits all the right notes for luxury crossover shoppers. Take one for a spin and see if you don't agree.