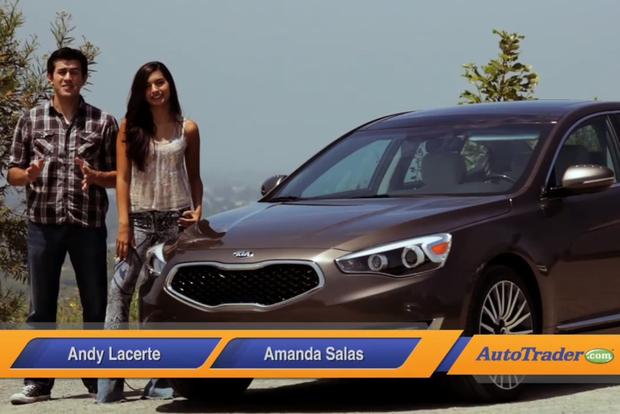 Thinking of Kia as having one of the best family sedans on the market was a far-fetched idea not so long ago. That's not the case anymore. The all-new 2014 Kia Cadenza will make you forget Kia's humble beginnings in a hurry. It is the brand's most powerful and technologically advanced vehicle in the U.S., and its exterior styling is restrained but slick, like it could have come from one of the German luxury-car makers.
Premium Cabin
The Cadenza's high-end vibe continues inside with a roomy, well-crafted, leather-trimmed cabin. The wrap-around driver's area creates a focused, cockpitlike feel. There's just one trim level, but it's loaded with standard features.
We're big fans of the app-based UVO interface, and the 550-watt Infinity audio system sounds amazing. If that's not enough, there are two optional accessory packages: Luxury and Technology. Each adds a number of upscale amenities and gadgets.
Refined Driving
The front-wheel-drive Cadenza has a single engine and transmission combination, a 293-horsepower 3.3-liter V6 tied to a 6-speed automatic. It's certainly capable on the roads, but we wish it had more power on the low end.
The Cadenza's handling is on par with other premium-level large sedans. It's responsive in the corners, and you don't get that "big boat" experience you sometimes find in vehicles this size.
Gas mileage is pretty much what you'd expect at 19 miles per gallon city/28 mpg hwy.
Upscale Value
But what you may not expect is this amount of car for under $40,000. The base MSRP is just $35,100. The Chevrolet Impala, Toyota Avalon and Chrysler 300 are all worth comparing.
The Final Say
The 2014 Kia Cadenza boasts sophisticated styling, a high-quality interior and all the features anyone could ask for. Furthermore, you can't beat Kia's exclusive 10-year/100,000-mile powertrain warranty. Now, if they could just give that V6 a little more power off the line or another engine or two to pick from. But, overall, the Cadenza is truly a premium-level sedan.