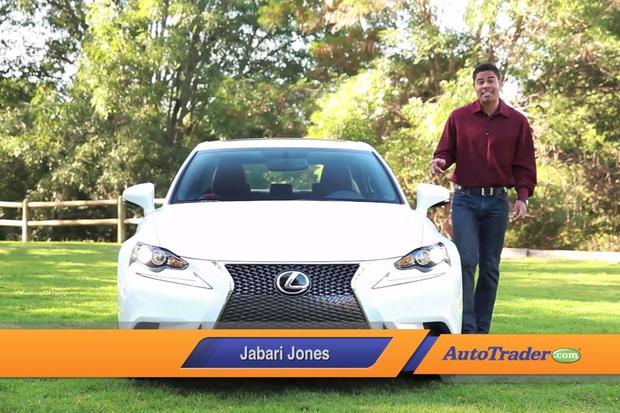 The Lexus IS 250 and IS 350 luxury sport sedans are all about moving forward. Whereas the previous IS sedan was almost too reserved for its own good, it's clear that the new one has a strong personality. But it's not just about style; the new IS also is a more capable and well-rounded car than before. Here are five reasons why the Lexus IS is definitely a sport sedan to consider.
Bold Looks
Lexus knew it had to spice up the IS this time around, and we think the new car's styling is a rousing success. The aggressive Lexus spindle grille gives the IS immediate presence, while the wraparound taillights are like nothing we've seen on any sedan. And check out that rakish character line that starts at the taillights, proceeding down to the bottom of the doors in a graceful arc. Lexus sweated the details on this job, and the results are stunning.
Two V6 Engines
Our IS 250 test car has a 2.5-liter V6 engine that's good for 204 horsepower. That may not sound like a lot, but it's sufficient for real-world driving. Compared to the popular 4-cylinder Acura TSX, for example, the IS 250 gives you more passing punch. If power is a priority, though, you'll want to consider the speedy IS 350, which steps up to a 3.5-liter V6 that cranks out 306 hp. There aren't too many sedans that can keep up with an IS 350 at full throttle.
Overhauled Interior
If there's one thing about the previous IS sedan that seemed really dated, it was the cabin. But check out what the new one has to offer. The dashboard is much more upscale, and look at that beautiful 7-inch infotainment display -- it comes standard on every IS. Not bad for the entry-level Lexus sedan. Plus, the perfectly contoured front seats are to die for. If there are better seats in the automotive world, chances are they have Porsche crests on the leather.
Bigger Back Seat
The snug back seat of the previous IS wasn't much fun unless you were a kid. But the new IS actually has enough room in back for 6-footers to ride in comfort. That could be the clincher if you're looking to downsize from a midsize luxury car. The IS still drives like a compact sport sedan, but there's no compromise in passenger space this time around.
A True Sport Sedan
The BMW 3 Series used to rule the roost for sheer driving pleasure, but it's gone soft as of late. Meanwhile, the new IS is even sportier than it used to be, so driving enthusiasts are increasingly giving it a chance. Thanks to quick steering and good body control, the IS is a lot of fun on a winding road -- especially if you opt for the F Sport package with its sport-tuned suspension and various other modifications.
AutoTrader Says
With style, technology, performance and space to spare, the fun-to-drive Lexus IS 250 and IS 350 are excellent examples of what a sport sedan should be.