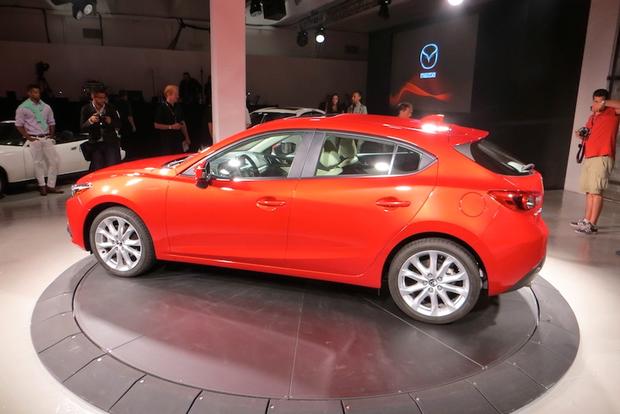 As soon as you see the new 2014 Mazda3, it's clear this is an all-new car. The car's look is striking and falls in line with the bold new look of the Mazda CX-5 and larger Mazda6.
At this point, Mazda has only shown a hatchback version of the Mazda3, so we're not sure if a Mazda3 sedan will follow. The 2014 Mazda3 comes with one of two engine choices. First, there's the familar 2.0-liter SKYACTIV 4-cylinder that's available in the 2013 Mazda3. That engine will make 155 horsepower, up slightly from today's model. Fuel economy is unknown.
The big news is Mazda's SKYACTIV-G engine. The new 2.5-liter motor is the same one that propels the 2014 Mazda CX-5 and Mazda6. In the Mazda3, it will make 184 horsepower.
The interior also gets a big upgrade. A stylish interior that looks and feels like a cut above other compact cars is something Mazda has done well recently, and it's clear Mazda followed that theme with the 2014 Mazda3.
It's almost unbeleiveable, but the Mazda3 will have some fairly high-end features avaiable including adaptive cruise control, blind spot monitoring and lane departure warning. Mazda didn't say how much the new car will cost, but we're guessing a base Mazda3 will start in the $20,000 range.
Look for the 2014 Mazda3 to go on sale as early as late 2013.