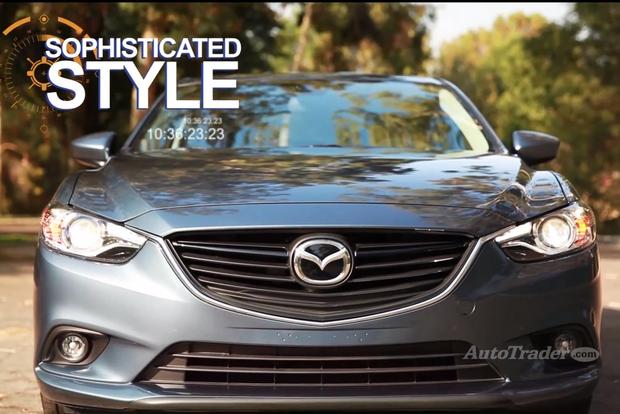 The Mazda6 has always been the sports car among midsize sedans, but Mazda never got the formula quite right. The first-generation 6 was too small inside, and with the overgrown second generation, it felt like Mazda was trying to build a Camry. But we just drove the all-new 2014 Mazda6, and it's Goldilocks, people -- it's just right. Here are five reasons why the 6 just might be the number-one family sedan on the market.
1. Sophisticated Style
Quick, name a family sedan that's genuinely good-looking. It's not easy, right? But take a good look at this Mazda. For a reasonably priced sedan, it's downright beautiful. Sure, it needs 19-inch wheels to look its best, and those don't come standard on the base Sport model. But we can't find a single line or curve that's out of place. It's a car you'd buy for the styling alone.
2. Classy Cabin
If you're all about crazy gadgets and blinking neon lights, you're not going to like the new 6's interior. But if you appreciate subtle, restrained design with high-quality materials, it's a breath of fresh air. Elegant simplicity is the phrase that comes to mind. It's just a nice place to be, with a sleek, sporty cockpit that reminds us a little of classic BMW layouts.
3. Great to Drive
One thing Mazda fans expect is sporty handling, and the 6 doesn't disappoint -- it's easily the most fun you can have in a family sedan. But the 6 also has a smooth, substantial ride that feels upscale. Being fun to drive is one thing, but it doesn't really matter if you get beat up over bumps. In the 6, though, you have an unusually satisfying combination of comfort and control.
4. HP, Meet MPG
The 6 model's 2.5-liter 4-cylinder engine makes 184 horsepower, and when you punch it, you'll be surprised -- it's a pretty quick car. But it's also amazingly fuel efficient. If you get a Grand Touring model with the i-Eloop auto stop/start system, you'll see 28 miles per gallon in the city and an incredible 40 mpg on the highway. That's better than a lot of compact sedans can manage. Stay tuned for a diesel model, too, which should arrive for the 2015 model year with even better fuel economy.
5. Plenty of Room
The rejuvenated styling gives the 6 a trim, taut appearance, but this is still a generously proportioned car. That means there's ample passenger space front and rear, even for 6-footers. If roominess is what you're after, the 6 has got you covered, even though it doesn't feel like a big car from behind the wheel.
AutoTrader says: The 2014 Mazda6 isn't just a great family sedan, it's a great sedan, period. If you're shopping at this price point, Mazda's latest is a must-drive.