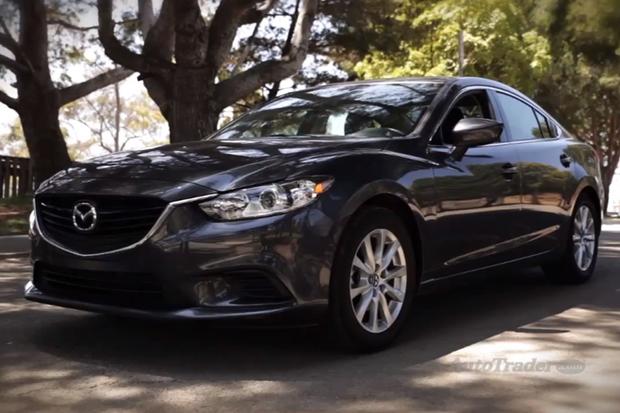 The 2014 Mazda6 midsize sedan may be all-new, but in a way it's a return to its original sporty personality of a decade ago. Performance and handling are back with a lighter, more aerodynamic feel, unlike most family sedans. In short, the Mazda6 is really fun to drive, whether you go with the base Sport model or the up-level Grand Touring trim.
Inside the 6
The 6's cabin is no slouch either. Inside you'll find a beefy steering wheel with paddle shifters and loads of controls, well-bolstered front seats, a roomy second row and plenty of high-tech bells and whistles. These include such features as standard push-button start and USB connectivity, and available blind spot warning, lane-departure warning and radar-based cruise control. On the downside, we don't like the available TomTom navigation system. It's slow on the draw, not very easy to use and antiquated.
Newly Refined Performance
The new, lighter Mazda6's 2.5-liter inline 4-cylinder cranks out a respectable 184 horsepower, but it's the 185 lb-ft of low-end torque that boosts the fun meter on this family sedan. Both the standard and paddle-shifted automatic transmissions are smooth and responsive, but some drivers may find the ride a little harsh. To achieve better handling, the Mazda6 had to give up some of that cushy sedan ride.
Regarding fuel economy, with Mazda's Skyactiv Technology mileage estimates jump by more than 20 percent over the previous generation Mazda6. Environmental Protection Agency estimates are 25 miles per gallon city/37 mpg hwy with the 6-speed manual gearbox and 26 mpg city/38 mpg hwy with the 6-speed automatic transmission.
Affordable Fun
With a base MSRP of just over $20,000, the Mazda6 delivers a lot of car for the buck. Especially when matched up against pricier competitors such as the Ford Fusion, Honda Accord and Toyota Camry.
The Verdict
The 2014 Mazda6 has returned to its performance roots while not abandoning those looking for practicality and comfort. Aside from a few complaints about the TomTom nav and the firm performance ride, Mazda made some excellent moves with its long-standing family sedan.