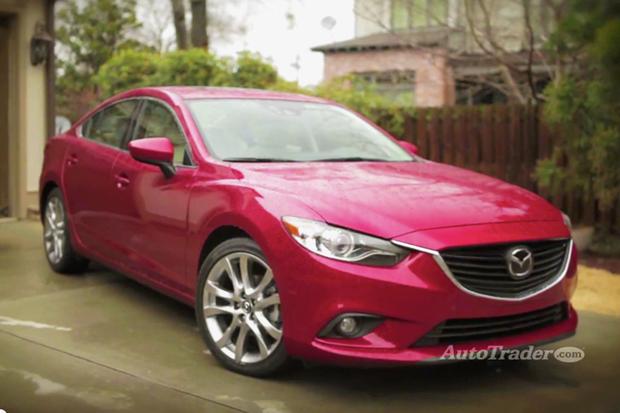 The 2014 Mazda6 may not be the first car you think of when shopping for a midsize sedan, but maybe it should be. It's a lot like the Honda Accord and Toyota Camry, but we think the Mazda is a little more stylish inside and out.
A Lot to Like
It's available in three trim levels: the base-level Sport, the nicely equipped Touring and the fully loaded Grand Touring model. The Mazda6 has a 2.5-liter, 4-cylinder engine and comes with a manual or 6-speed automatic transmission. Mazda's i-ELOOP system works like a mild hybrid and helps the Mazda6 get an impressive 38 miles per gallon on the highway.
Aesthetically, the sleek roofline, dramatic grill and deep contours really work on this sedan, and the Grand Touring model comes with optional 19-inch alloy wheels that add to the car's luxury look.
We never thought we'd say driving a family sedan is fun, but it really is with the Mazda6. It definitely has sportier handling and a slightly firmer ride than the competing Honda Accord or Ford Fusion.
Great Interior, (Mostly) Good Tech
The 2-toned, side-bolstered leather seats and substantial steering wheel feel like something you'd find in a German luxury sedan. The Mazda6's dash and center console are elegantly streamlined, and if you drive clients around, then you'll definitely appreciate the roomy, comfortable back seat. We also like that the seat splits and folds down for extra cargo space.
The Mazda6 comes standard with push-button start, an HD Radio with a full-color touchscreen and voice-texting capability. Of course, there's a lot of optional tech available, too, such as a Bose Surround Sound System, Sirius Satellite Radio and navigation. However, we're not crazy about the Mazda's TomTom-powered nav. It's slow and the screen feels too small. But when it comes to safety, Mazda came through with optional features like forward collision alert, lane departure warning, blind spot monitoring and a rearview camera.
Sure, family sedans aren't usually sexy, but this practical midsize sedan is not only fun to drive, it also looks fantastic inside and out. The fully redesigned 2014 Mazda6 proves that a family car doesn't have to be boring. In fact, it can be downright stylish.