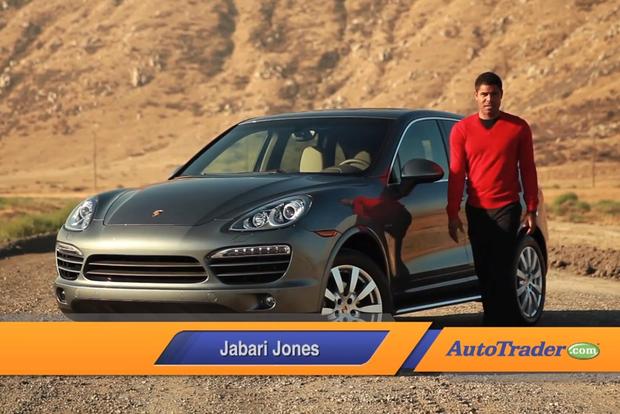 The 2014 Porsche Cayenne is heir to a line of SUVs that can do everything. Well, almost everything. Historically, the Cayenne has never been offered with a diesel engine, whereas most of its rivals -- as well as the related Audi Q7 and Volkswagen Touareg -- have provided diesel options. But Porsche just fixed that for you, and the SUV landscape will never be the same. The almighty 2014 Porsche Cayenne Diesel is here, and we have five reasons why it could be the best Cayenne yet.
1. Mega MPG
The fuel economy for gas-powered Cayennes is pretty much "don't ask," but diesels are known for great fuel economy, and the Cayenne Diesel shows why. Its turbodiesel V6 returns 19 miles per gallon city/29 mpg hwy, which is incredible for a 5,000-lb SUV. To put that into context, the Porsche 911 sports car tops out at 28 mpg hwy despite being far lighter and lower to the ground.
2. Torque Aplenty
The other thing diesels are known for is torque. Torque is the stuff that shoves you back in your seat when you punch the throttle, and the Cayenne Diesel has a lot of it. The official rating is an impressive 406 lb-ft, but you have to experience it in the real world: When you put your foot down, this thing really rears back and hauls the mail. It makes fun noises, too, featuring a distinctive baritone that definitely doesn't sound like any other Porsche.
3. Sport-Sedan Handling
You might not expect a diesel-powered SUV to feel frisky from behind the wheel, but the Cayenne is a different breed. Designed to handle like a performance car, this is one diesel SUV that's actually fun to drive on twisty roads. Is it the aforementioned 911's equal? Not exactly, but the 911 can't transport four adults on dirt roads in luxury-grade comfort, can it?
4. Exquisite Interior
If you've ever been in an old 911 (i.e., from the 1990s or earlier), you know that Porsche interiors were pretty bare-bones. The Cayenne doesn't have that problem, to put it mildly. With beautiful leather stitching and exceptionally high-quality materials, the Cayenne's cabin is dressed to impress. You want to feel like you got what you paid for when you're dropping this kind of cash, and you certainly will in this Porsche.
5. SUV Convenience
Although the Cayenne Diesel does a great impression of a performance car, it's still as practical as any midsize SUV. It has a nice high driving position, an adult-friendly back seat and more than 60 cu ft of cargo space with the rear seat backs folded down. For real-world daily driving, particularly if you have a family or just an active lifestyle, this is the Porsche to have.
AutoTrader Says
What more can we say? The Cayenne Diesel is basically an automotive superhero. If you want an SUV that does it all, this Porsche leads the pack.