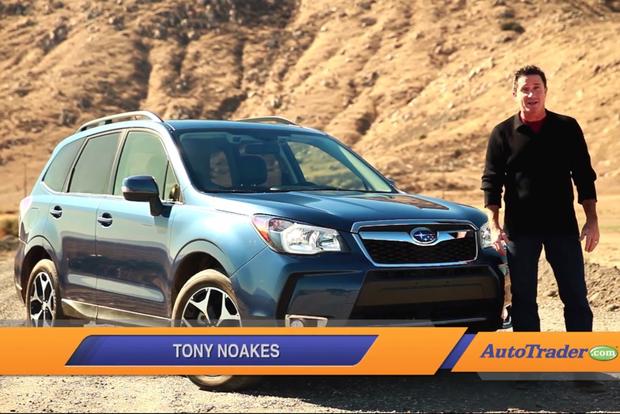 Some folks just want to get from point A to point B without drama -- and if that sounds like you, you probably shouldn't buy a 2014 Subaru Forester. The turbocharged XT model turns every trip into a thrill ride, and even the regular Forester is a more engaging drive than the norm in this segment.
Hey, all those loyal Forester fans in the Northeast and Northwest can't be wrong, can they? Subaru has a hit on its hands, and we've got five reasons to make it your next ride.
Addictive Turbocharged Power
The big news for the Forester XT is what's under the hood. The boxer 4-cylinder engine is turbocharged with 250 horsepower, and you can really feel it on the open road. Zero to 60 takes about 6 seconds, which is sports-car territory. You can also get a non-turbocharged Forester, of course, with 170 pretty energetic horses of its own. But once you've gone turbo, it's hard to go back. That XT can really haul the mail.
Genuine Off-road Ability
We know some Forester drivers, and they're a little different. When opportunity strikes, they're ready to hit the dirt and tackle some trails. That's why every Forester comes with all-wheel drive, and the Forester XT adds its X-Mode, which automatically selects the best vehicle settings for tough terrain. Just press that X-Mode button next to the shifter and you're good to go. But truth be told, even the most basic Forester is a champ in the dirt thanks to Subaru's tried-and-true all-wheel-drive technology.
Decent Luxury (Finally!)
As our Forester-driving friends will attest, Subaru has been known to skimp on creature comforts in the past. But with the new Forester, the company might be turning over a new leaf. To wit, all Foresters now come standard with Bluetooth phone and streaming audio, while the Premium trim adds a panoramic sunroof, a power driver seat and upgraded sound. Standard luxuries on the XT include 18-inch wheels and a panoramic sunroof. The XT Touring model, meanwhile, boasts a navigation system and even an auto-closing power lift gate.
Impressive Versatility
Want to haul a bunch of stuff? The Forester has one of the biggest cargo holds in this class, maxing out at a massive 75 cu ft of space. Plus, the spacious back seat lets adults ride in comfort, thanks to nearly four more inches of rear legroom this time around. The Forester may look compact from the outside, but inside, it's anything but small.
Impressive MPG
Fuel economy hasn't been a Forester strong suit in the past, but that's changing before our eyes. The new Forester's automatic transmission is a CVT that maximizes efficiency, and the results are striking. The 2.5-liter Forester with the CVT gets a healthy 27 miles per gallon overall, including 32 mpg on the highway, while the XT is still pretty good at a combined 25 mpg. That's a pleasant surprise from an all-season crossover SUV.
AutoTrader's Advice
The Forester's priced right, starting at well under $25,000, with the XT available from about $29,000. If you want to spice up the daily grind, this Subaru is a great place to start.