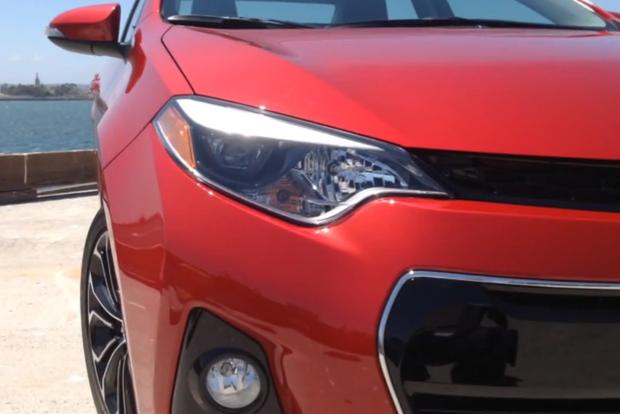 Have you ever been to the intersection of Hollywood and Highland in Southern California? Celebrity impersonators gather there hoping to earn a little extra money taking photos with tourists (yes, you're supposed to pay them). The 2014 Toyota Corolla is a little like these guys.
Well, "celebrity impersonator" may be overstating it a bit; they're more like movie character look-alikes. You know, Betty Boop, Chucky (from such great films as "Bride of Chucky") and Spider-Man, that kind of thing.
Of course, sometimes they just look like a sad 50-year old guy in a Superman cape, and other times they look so much like real "Star Wars" Stormtroopers, you actually get a little scared. Either way, they're not what they seem.
Split Personality
That's kind of the story with the new Corolla. On the surface, it's a new car with a fresh look. In fact, the new car is sharper and edgier than other compact sedans, such as the Ford Focus and Honda Civic.
The Corolla's interior is new, as well, and gets Toyota's reworked information and entertainment system Entune.
There's a lot to like about this new compact sedan, and we predict it will continue to find its way into a lot of American garages for years to come.
The 2014 Corolla is noticeably smoother and quieter both around town and on the highway. The new Corolla is a much better car than the previous version.
However, there's also a lot about the new Corolla that's not so new. For example, most versions of the new Corolla get drum brakes in the rear. This technology has been around for decades, so it's not exactly cutting edge. Still, sporty S models get 4-wheel disc brakes.
Some of the suspension pieces are derived from the older Corolla, and the base model gets a 4-speed automatic transmission.
Most buyers will opt for the new continuously variable transmission, which mimics shift points so it feels more conventional.
It Is What It Is
So the 2014 Toyota Corolla is wearing a disguise of sorts. When you visit the Hollywood Walk of Stars, that tall guy in a hair suit isn't really Chewbacca. Visit on the right day, however, and you'll swear he's the real deal.
The new Corolla is the more convincing version -- it looks and feels like the real deal.
Is the new car a sport sedan like the Mazda3? No, but there is an underlying stiffness to the new car's setup. The steering is quick, and the suspension feels tight enough to be fun around town. Our guess is that most Corolla buyers won't know their car has drum brakes and will brag to their friends when a future brake job costs $189.
It's no Mazda3, but the '14 Corolla is exactly what it should be: a really great compact Toyota sedan.
Clearly, the Corolla S is the sportiest version. It has tweaked suspension, cool-looking 17-inch wheels and several cosmetic upgrades that make it look the part.
We Have a Favorite
The S, however, is not the best version of the Corolla. We like the LE Eco version. It gets more power (140 horsepower) thanks to variable valve technology. Plus, the LE version comes nicely equipped with eight airbags, backup camera, cruise control, fog lights and Entune information and entertainment with a 6.1-in touchscreen.
Not only is the Eco version of the Corolla the most powerful, but it also gets the best fuel economy at 42 miles per gallon on the highway.
The Corolla's interior is upgraded too. It now looks a lot better, and there are some soft-touch surfaces. We'd like more soft-touch areas, but the car starts at about $17,000, so that may not be reasonable.
Updated Interior
The interior looks good; it mimics the style of the recently redesigned RAV4. There are a few nice touches inside, including the gloss black plastic that surrounds some of the audio controls. Also, there's plenty of contrasting or exposed stitching, adding a more premium look to the car.
Steering-wheel-mounted controls and some door panel bits rely too much on hard plastic.
In a way, the new Toyota Corolla is just playing a part. Toyota knows people buy their cars because they're reliable, durable and affordable, and it is not going to change that. After all, the 2013 Toyota Corolla is the oldest compact sedan available, and it's still the second best-seller in the U.S.
We're guessing a lot of people will be happy to play dress-up and enjoy the Corolla's long, trouble-free life and low purchase price, all the while pretending it's a high-tech sport sedan.
George Clooney Batman look-alike says most people can't tell the difference as he stuffs another $20 bill in his Batsuit.