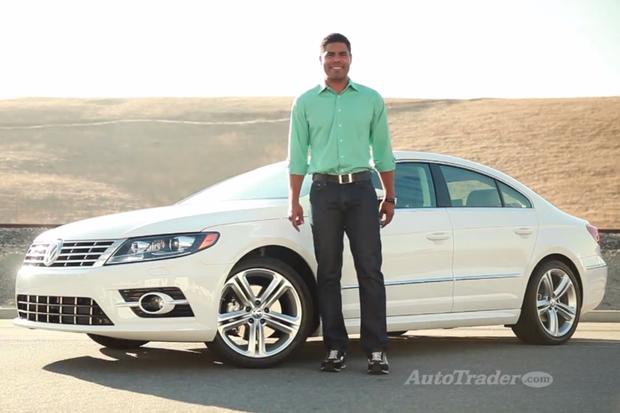 When it comes to affordable midsize sedans, the 2014 Volkswagen CC stands alone. No other car in this class turns heads like Volkswagen's foxy 4-door -- it gives you luxury-car looks at a surprisingly low price. But there's more to the CC's beauty than meets the eye. Here are five reasons why the 2014 CC gets straight A's from our editors.
Unique Styling
It may be based on the stoic Passat, but the CC has been nipped and tucked into a genuinely attractive car. It's hard to believe that something derived from a big ol' family sedan could look this good. For fashionable 4-door transportation with a trunk, there's the CC, and then there's everything else. Well, unless you want to pay twice the price (or more) for a Mercedes CLS.
Excellent Engines
The CC's standard engine is Volkswagen's excellent 2.0T 4-cylinder that's rated at a healthy 200 horsepower. It's also turbocharged, giving you a meaty 207 lb-ft of torque from just 1,700 rpm. The 2.0T is all the motor most drivers will ever need, and it gets 32 miles per gallon on the highway, too. If you want more, though, the CC's optional 280-hp V6 packs a serious punch. Paired with exclusive 4-Motion all-wheel drive, the CC V6 gives genuine sport sedans a run for their money.
Surprisingly Spacious Seating
You might think the CC's rakish styling wouldn't leave room for actual humans inside, but prepare to be pleasantly surprised. Although its rear headroom can be a little tight, there's plenty of room for most adults to ride all day in comfort. And unlike some earlier CC models, the current one has 3-across seating in back, so there's room for five in a pinch. We like the sporty yet accommodating front seats, too -- they're among the best you'll find in a non-luxury car.
Plentiful Standard Features
The CC doesn't just look like a premium car -- it's equipped like one, too. Standard features include bi-xenon headlights with LED accents, heated seats and dual-zone automatic climate control, while higher trims get perks such as leather upholstery and touchscreen navigation. That's something to keep in mind when you're comparing costs: The CC's base price is definitely higher than a Camry's, for instance, but you get more luxuries, too.
Sport and Comfort in Equal Measure
Volkswagen's engineers are among the best at finding that perfect suspension calibration, and the CC is exhibit A. It's never harsh, even with the big 18-inch alloy wheels, yet it's firm enough to take corners with confidence. This is a driver's car that passengers will appreciate, too. We wouldn't change a thing.
AutoTrader's Advice
As good as the 2014 Volkswagen CC looks, it might be even better to drive. Throw in generous features and real-world usability and you have one of the most appealing sedans on the market.