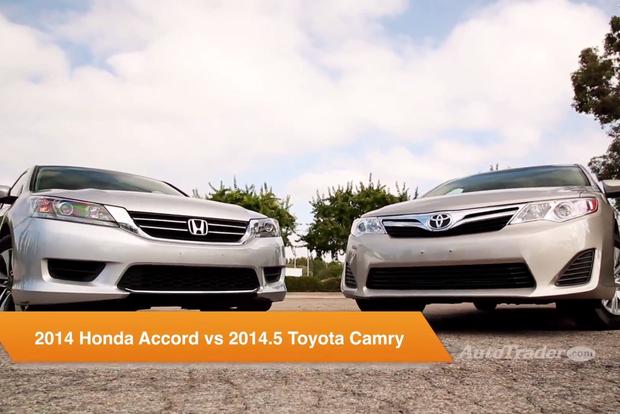 Pop quiz: What are the two most popular cars in the USA? You're looking at them -- the 2014.5 Toyota Camry and the 2014 Honda Accord. How do you choose between the two? Let's talk about which one's better in a few different categories.
Reliability: CAMRY
Due mostly to complaints about the Accord's new touchscreen interface, Consumer Reports says to expect average reliability at best. With the Camry, average is the worst-case scenario, and the Camry Hybrid gets the highest possible rating. Likewise, J.D. Power gave the Camry the edge in quality and reliability ratings. Mechanically, both cars are great bets, but overall, the Toyota's on top.
Fuel Economy: ACCORD
When it comes to saving gas, the Accord runs the table. The base 2.4-liter 4-cylinder gets between 28 and 30 miles per gallon in mixed driving, while the optional V6 isn't far behind at 26 mpg. The Camry's 2.5-liter four tops out at 28 mpg combined, with the 3.5-liter V6 dropping to 25 mpg. Honda wins on the hybrid front, too: The Accord Hybrid gets an incredible 47 mpg on average, easily beating the Camry Hybrid's 41 mpg. There's even an Accord Plug-In Hybrid that can go 10 miles on battery power alone.
Safety: TIE
Both of these cars are seriously safe. They received the same 5-star overall rating in government crash tests, and the Insurance Institute for Highway Safety reported similar results. The main difference is that the Accord offers a forward-collision warning system and the Camry doesn't. In terms of crash protection, you really can't go wrong either way.
Technology: ACCORD
The Honda wins this one by a nose because it's just so cool mechanically. The continuously variable transmission and Variable Cylinder Management system help produce that amazing fuel economy, and the hybrid Accord models are simply more sophisticated. The Camry does come standard with a 6.1-inch touchscreen audio system, whereas Honda makes you ante up for a fancy trim level.
Value: CAMRY
According to ALG, both cars get a full five stars for holding their value over time, and they also merit the top rating from Consumer Reports for total cost of ownership. Suggested retail pricing's about the same, too. Toyota is more aggressive with rebates and other incentives, and that can push prices down by hundreds or even thousands. If low price is a high priority, the Camry might be a better bet.
AutoTrader's Advice
Overall, we think that the 2014 Honda Accord is a little more satisfying across the board than the 2014.5 Toyota Camry. It's pretty close, though. If you're deciding between these two sedans, that's a nice problem to have.