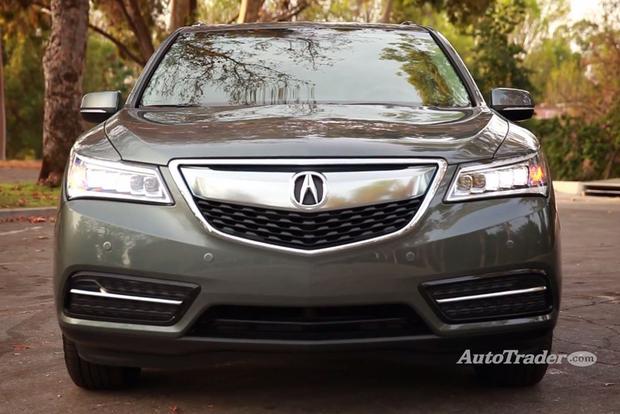 If you're looking for information on a newer Acura MDX, we've published an updated review: 2019 Acura MDX Review
Premium-brand crossovers are usually all about flashy appearances, but the 2015 Acura MDX is the practical family's choice. It's reasonably priced, tastefully styled and full of clever features designed to solve real-world problems. Plus, it's equipped with three rows of seats to maximize versatility. Here are five reasons why the latest MDX is a top pick in its class.
Losing Weight, Feeling Great
The all-wheel-drive MDX is 275 pounds lighter this time around, and that's a meaningful difference. The sprint from 0 to 60 miles per hour, for example, is a half-second quicker than it used to be, which is a pretty big deal. But wait until you hear about the fuel economy: The MDX with all-wheel drive yields 27 miles per gallon on the highway, while the front-wheel-drive MDX gets 28 mpg. That puts the previous-generation MDX's 21-mpg ceiling to shame.
Twin Displays Simplify Infotainment
A high-resolution central display screen is par for the course nowadays, but check this out: The MDX has two of them. The upper screen uses Acura's familiar control-knob interface, while the lower screen handles radio and climate functions. That means there's no button clutter, because most of the MDX's electronic features are accessed via those two screens. Speaking of radio functions, you have to try out the ELS sound system; we believe it's one of the best in any midsize SUV. See the 2015 Acura MDX models for sale near you
Versatile Seating
The MDX's high-mounted front seats must be chiropractor certified, because their firm support is something you have to feel to believe. The story's much the same in the second row, and each seat slides fore and aft for added seating flexibility. As for the third row, it's relatively cramped for adults, but the kids will probably love it. Either way, ingress and egress are greatly simplified by power-operated second-row seats that motor forward at the touch of a button. It all adds up to one of the family-friendliest luxury crossovers on the market.
Strong Value
Other 3-row luxury crossovers can seem like they're obsessed with prestige, but the MDX never loses sight of its value proposition. If you look at the Audi Q7, BMW X5 or Mercedes GL-Class, they're all quite pricey by comparison. The MDX, on the other hand, provides full luxury accoutrements at a reasonable price. Not surprisingly, it's a strong seller, year after year.
Composed Handling
The MDX is still a large vehicle despite its recent weight loss. But remember, Acura is Honda's luxury division, and Honda cares about the driving experience. In brisk corners, the MDX feels confident and responsive, yet the ride remains supple on city streets. It's a well-rounded package that should be a great fit for most drivers.
Autotrader Says
If yours is a practical sort of family, the 2015 Acura MDX may have your name written all over it. We strongly recommend that you try Acura's finest before buying something else. Find an Acura MDX for sale