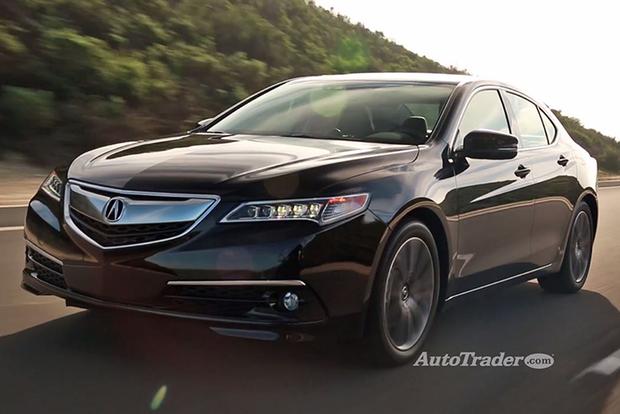 Acura once had two entry-level luxury sedans: the roomy TL and the compact TSX. But why build two when one will do? The new 2015 Acura TLX replaces both models, and with its in-between size, it gives you most of the TL's luxury and all of the TSX's nimbleness. Sometimes addition by subtraction really works, and here are five reasons why Acura's on the right track.
Distinctive Styling
It's no secret that Acura courted controversy with the most recent TL's styling. In particular, the bionic beak grille polarized public opinion, with many questioning why Acura had departed from its tasteful norm. But the TLX puts all of that in the rearview mirror. This is a head-turning car, from its jewel-like headlights to its classy LED taillights. Its taut proportions look great from the side, too.
Two Appealing Powertrains
Although the base TLX inherits the TSX's 2.4-liter 4-cylinder engine, it has a cool new transmission: a dual-clutch automated manual. The standard shift paddles make the most of the engine's 206 horsepower. If you want more oomph, the available V6 cranks out 290 hp through a 9-speed automatic. Fuel economy is impressive, too, at 35 miles per gallon on the highway with the four and 34 mpg with the V6.
Nimble Handling
The TLX feels dialed in on winding roads. The 4-cylinder model is only available with front-wheel drive, but it's lighter in the nose than the V6, so it feels more responsive. Still, the TLX V6 more than holds its own with Honda's optional Super Handling All-Wheel Drive (SH-AWD) system, which eliminates understeer by sending power side to side as well as front to back. Either way, it's nice to see Acura getting back to its sporty roots.
Great Seats
Acura must have hired a chiropractor, because in recent years, their seats have been top-notch. A 10-way power driver's seat comes standard on the TLX, and it delivers Volvo-like support. Rear passengers have plenty of space, too, even though the TLX is smaller than the old TL. No matter where you're sitting in this sedan, chances are you'll like your accommodations.
More Features for the Money
True to Acura's reputation, every TLX has a ton of standard features, including automatic climate control, Bluetooth and dual display screens that allow you to multitask on the road. The Technology package adds an excellent ELS stereo and safety features including lane departure warning. If you're looking for value, the TLX gives you more than the European crowd, and it offers better resale value when you're ready to move on.
AutoTrader Says
The 2015 Acura TLX combines the best of the old TL and TSX, and it adds some new stuff, too. If you've been waiting for Acura to get in the game, it's definitely time for a test drive.