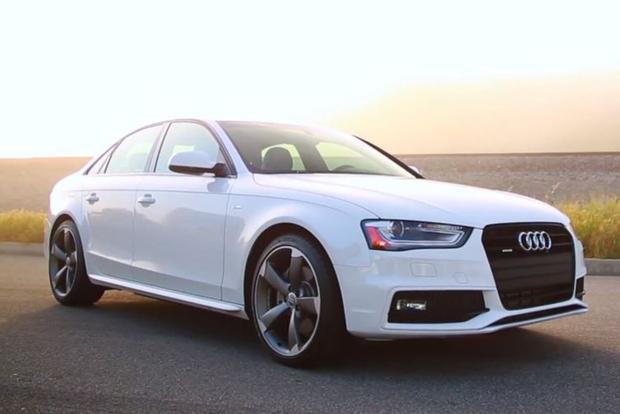 The 2015 Audi A4 isn't the newest sport sedan on the block, and for some shoppers, that's a strike against it. But if you ask us, this old dog has plenty of new tricks. Whether you're talking about outer or inner beauty, or just about year-round driving performance, you'll find it all in this accomplished Audi. Here are five reasons why the A4 is still fresh enough to compete.
Timeless Styling
Some sport sedans try to catch your eye with over-the-top styling cues, but the A4 is understated to the max. That means it'll look as sharp 10 years from now as it does today. Sure, you get some nice alloy wheels and LED lighting, but otherwise, this Audi plays it cool. That doesn't mean it's a wallflower, though; there's an undeniable premium vibe from every angle. You could say it's just comfortable in its own skin.
Do-It-All Engine
The A4 only comes with one engine, but it's a star. VW/Audi's familiar 2.0T 4-cylinder is tuned here for 220 horsepower and 258 lb-ft of torque, which is more than enough for daily driving. The torque is the real key, because it comes on right when you start accelerating, so you'll feel like there's a lot more power on tap for everyday maneuvers. But you also get up to 32 miles per gallon on the highway, so there's no penalty for all that oomph.
Tenacious Handling
Although front-wheel drive comes standard, most A4s are equipped with quattro all-wheel drive. It'll save your bacon when the road gets slippery, but that's not all: On dry pavement, all four wheels claw for traction instead of just two. That makes the A4 one of the most secure handlers in its segment as well as one of the sportiest cars to drive. Of course, the A4 quattro will be particularly popular in snow-belt states where all-wheel drive is nonnegotiable.
Sumptuous Cabin
It seems like Audi's always on top when it comes to cabin quality, and the A4 lives up to the legend. The materials are luxurious all around, and Audi's MMI system does a great job with infotainment functions, too. If you get the MMI Plus setup with navigation, the control knob is on the console between the seats, right where your hand rests when you're driving. Moreover, all the levers and buttons move with a well-damped precision that just feels rich. If you're looking for a sport sedan that seems nicer than its price, the A4 might be number one.
Surprising Value
We don't usually think of Audis as being value-packed, but the A4 might surprise you. Standard features include a sunroof, 3-zone climate control, Bluetooth and a 10-speaker stereo. You even get leather upholstery as standard, whereas many rivals give you synthetic leather to start. And if you want mobile Wi-Fi and Google Maps integration, Audi can hook you up with those items, as well.
Autotrader Says
We're not saying that the 2015 Audi A4 is aging like a fine wine, but it's certainly holding its own against the upstarts. If you're shopping in this segment, don't count it out.