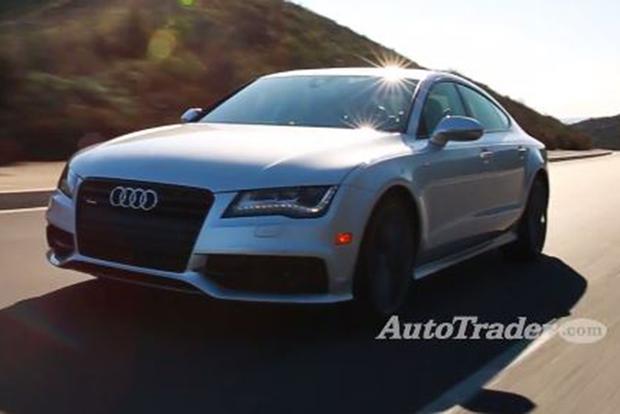 The luxurious 2015 Audi A7 has a hatchback trunk, just like an economy car, but it's also one of the best-looking cars on the road. And it's definitely one of the most rewarding cars to drive. If you're looking for one car that will do it all, the A7 has you covered, rain or shine. Here are five reasons to try Audi's haute couture hatch on for size.
1. Show-stopping Style
From the side or the back, the A7 looks like a slinky sport coupe. That's a neat trick, because the car is actually based on the midsize A6 sedan. We especially like the rear view of the A7 with its distinctive fastback roofline; even if you don't know a thing about cars, you can tell this one's special. For shoppers who want a fashion-forward ride that's still pretty practical, it doesn't get any better.
2. Athletic Handling
The A7 feels tight and nimble from the driver seat, and it stays that way even at the limit. The steering is very responsive, and there's not much body roll in fast corners. You also have the advantage of Audi quattro all-wheel drive, which makes cornering tighter on dry pavement and helps keep you safe when it's wet. The A7 doesn't just look like a sport coupe; it handles like one, too.
3. Awesome Engines
Believe it or not, the A7's supercharged V6 is just the base engine. The pricier S7 comes with a twin-turbo V8, but once you've sampled the V6, you'll wonder why anyone would want more. It has 310 horsepower, 325 lb-ft of torque and is incredibly fast and smooth. It gives you a remarkable 28 miles per gallon on the highway, too. If that's not enough, there's an optional TDI turbodiesel V6 that gets 38 mpg hwy.
4. Exquisite Cabin
Audi has been crushing it for years in terms of interior design and quality, and the A7 doesn't disappoint. Materials and build quality are so good that all the trim pieces and textures blend together seamlessly. Technology is first rate as well, highlighted by the MMI infotainment system, which has great graphics and an intuitive rotary controller.
5. Hatchback Versatility
The A7's hatchback trunk provides almost 25 cu ft. of trunk space behind the rear seatbacks, which is about 70 percent more than a typical sedan's trunk. When you flip those seatbacks down, there's enough room for a Home Depot run. The A7's also great for hauling golf bags, ski gear and just about anything else you might throw in it.
AutoTrader Says
Who knew a hatchback could be this cool? It doesn't come cheap, but you should still try the 2015 Audi A7 for yourself.