Car Video
2015 Cadillac CTS: 5 Reasons to Buy - Video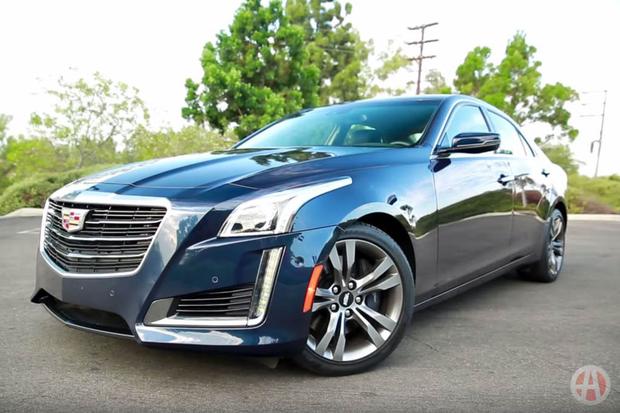 If you're looking for information on a newer Cadillac CTS, we've published an updated review: 2018 Cadillac CTS Review
The 2015 Cadillac CTS is more than just another midsize executive sedan; it's a world-class product. We're now in the car's third generation, and we have five reasons why the CTS is the best it's ever been.
Styling
In general, Cadillac styling is bold and distinctive, and that design language speaks volumes in the CTS, even in the smaller details. Look at how the aluminum window trim is thicker in some places and thinner in others, like an artist's brushstroke, and how the exhaust tips work within the rear bumper.
Family Dynamics
Back in the day, Cadillacs had a reputation for luxurious rides and not much else. Things have changed. The CTS can go wheel to wheel with the best-handling sport sedans from Germany. You can also keep the family happy and relaxed by selecting Comfort mode. See the 2015 Cadillac CTS models for sale near you
Luxury Home
This is where textures, shapes and craftsmanship converge to create a sumptuous cabin. The driver's seat has 16-way adjustment as standard, so finding the ideal position is easy, and check out the motorized cupholder lid.
Sporting Stance
Any CTS is great, but the Vsport model deserves a special mention. This is the sportiest, most athletic version, with a turbocharged 3.6-liter V6 developing a mighty 420 horsepower and 430 lb-ft of torque. It has a special setting for track work and beefed-up brakes.
CUE the Infotainment
CUE stands for Cadillac User Experience, also known as the infotainment system. It operates in a similar way to a smartphone; for example, you swipe the big touchscreen to access another page and spread your fingers to make an image larger. The CTS also comes with a Wi-Fi hot spot.
Autotrader Says
The 2015 Cadillac CTS is the perfect blend of technology and driving thrills. It stands as a strong rival to cars such as the Audi A6, BMW 5 Series and Mercedes-Benz E-Class.Find a Cadillac CTS for sale