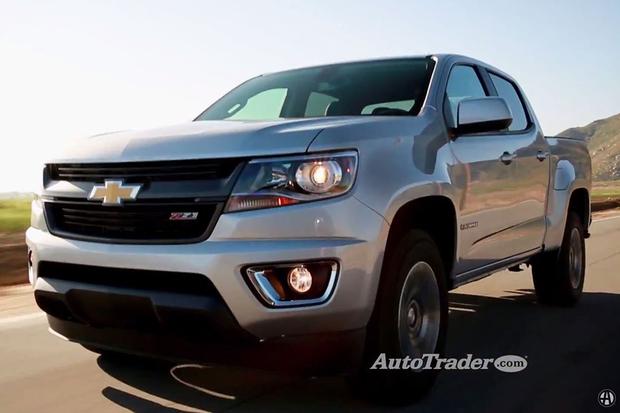 If you're looking for a midsize truck, you probably know that there used to be two legit options: the Toyota Tacoma and the Nissan Frontier. But now the 2015 Chevrolet Colorado is in town, and this segment will never be the same. With its impressive collection of strengths, the reinvented Colorado is the odds-on favorite to beat those stars on the sales charts. Here are five reasons to saddle up with Chevy's latest.
Just-Right Size
With all the focus on full-size trucks, the midsize segment tends to get lost in the shuffle. But the Colorado reminds us why midsizers make sense for a lot of shoppers. First of all, the Colorado's almost as capable as the Silverado, offering workhorse capabilities if you choose the V6. But it's shorter and narrower than the Silverado, so you can drive it downtown and park it anywhere. You know what? Maybe that's the way a truck should be.
Quality Construction
If you've been in one of the original Colorados, you know that cabin quality wasn't exactly job No. 1. But it's a different story this time around. The materials have a sophisticated look, and you can tell that everything's screwed together nice and tight. We'd even call it the nicest cabin in this segment. This is a truck you can bring home to meet the parents.
Plenty of Tech
People expect all the latest features in their trucks these days, and the Colorado's up to the challenge. Standard features include USB and auxiliary audio connectivity, and you can add Bluetooth, an 8-inch touchscreen, Pandora Internet Radio and even a 4G LTE Wi-Fi hot spot. It's like having an SUV with a bed on the back, and that's pretty impressive for a practical truck.
A Pleasure to Drive
On the road, the Colorado is a great mix of muscle and maneuverability. You sit up high, and there's a feeling of strength and stability from behind the wheel. But, as we've said earlier, the Colorado's not too long or wide, so you can dart through traffic almost like you're driving a car. It's a beast off road too, if you opt for 4-wheel drive. There's something refreshing about a truck that doesn't feel like a big rig from the driver's seat.
Power and Efficiency
The Colorado's base engine is Chevy's proven 2.5-liter 4-cylinder, and it pumps out a healthy 200 horsepower while still giving you up to 27 miles per gallon on the highway. Step up to the 3.6-liter V6, and you're looking at 305 horses, yet fuel economy is almost the same at 26 mpg hwy. Plus, the V6 can tow up to 7,000 pounds, which isn't far off the pace set by full-size V6-powered trucks.
Autotrader Says
The reborn 2015 Chevrolet Colorado hits all the right notes. If you're a midsize-truck fan, it's one of this year's must-drives.