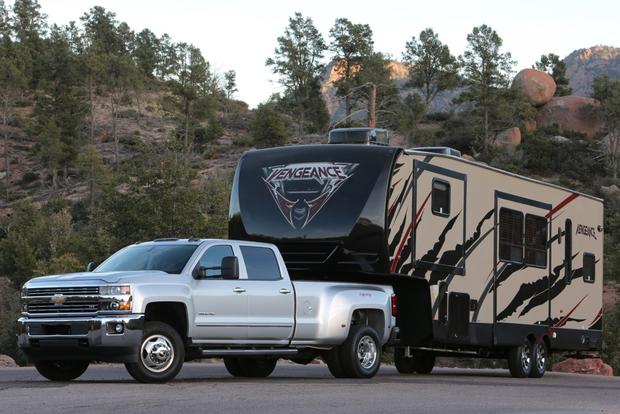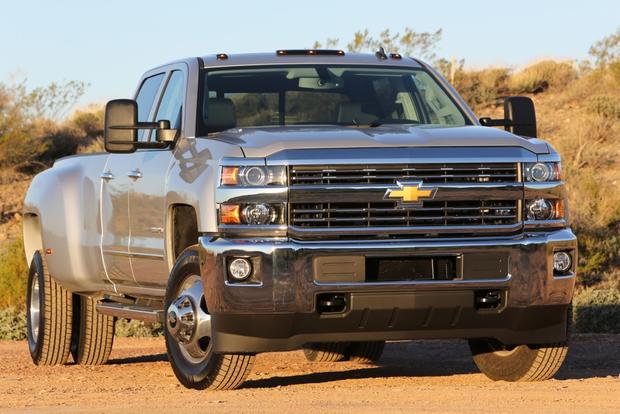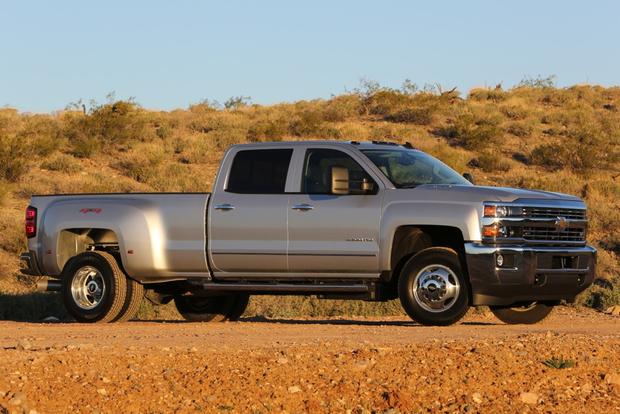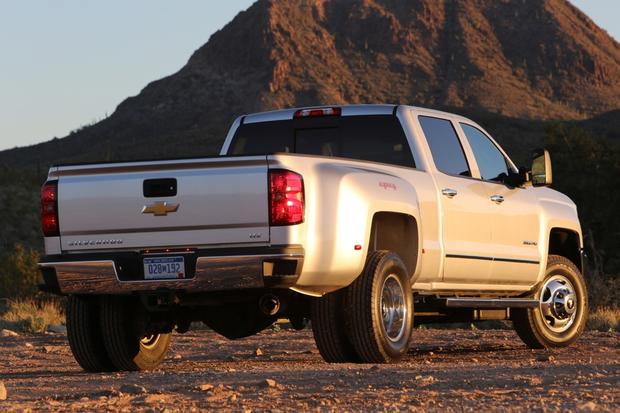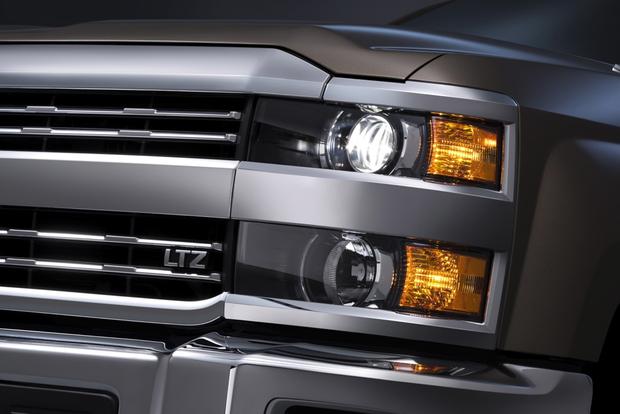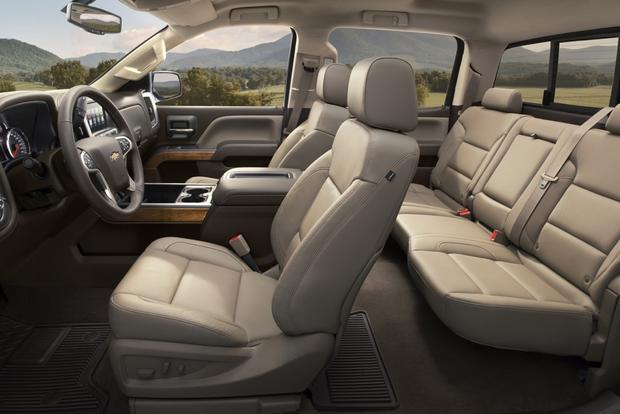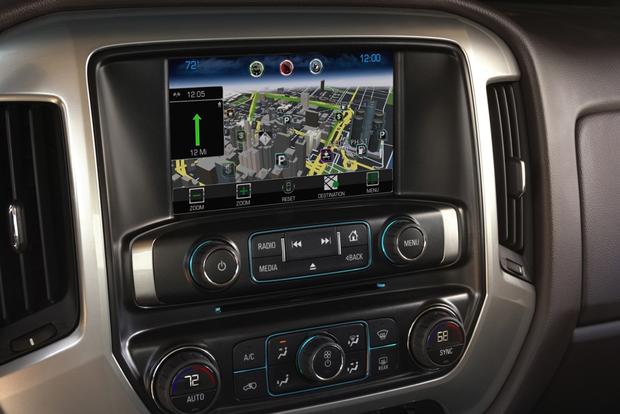 Few pickup trucks are as capable -- or as enormous -- as a heavy-duty Chevrolet Silverado. Designed for serious commercial-grade applications rather than around-town driving, the Silverado HD is a work truck above all else, and the 3500 is at the top of the heap. And while the 2015 Chevrolet Silverado 3500HD has been fully redesigned for the new model year with new equipment, a new look and more refinements, don't let the changes fool you: This is still a competent truck that can handle just about anything you throw at it.
What's New for 2015?
For 2015, the Chevrolet Silverado 3500HD is fully redesigned. Last year's engines remain, but the truck offers an updated interior, new styling, a long list of new equipment and an all-new double-cab model that replaces last year's extended cab.
What We Like
Huge towing and hauling abilities; massive power and torque; capable for any job; newly redesigned interior offers major improvement
What We Don't
No manual transmission; no self-leveling suspension like RAM HD; pricing starting to get huge
How Much?
$33,300-$51,100
Fuel Economy
The 2015 Chevrolet Silverado 3500HD offers two engines, both of which are carried over from last year. Standard is a 6.0-liter V8 that makes 360 horsepower and 380 lb-ft of torque; Shoppers who want more power can go for the truck's optional 6.6-liter turbodiesel V8, which makes a little more hp (397) and an especially muscular 765 lb-ft of torque.
Unfortunately, official fuel economy ratings aren't available, since the Environmental Protection Agency doesn't rate vehicles as large as the Silverado 3500HD, but suffice it to say that these trucks aren't for the fuel-conscious. Most drivers get around 12 miles per gallon in the city and 17 mpg in highway driving, regardless of engine choice.
Standard Features & Options
As you might expect, the Silverado 3500HD offers a long list of available trim levels, body styles and configurations. There are regular cabs and crew cabs, and now there's even a new extended cab with hinged doors. There are regular beds and long beds, the aforementioned gasoline or diesel engines, and 2- or 4-wheel drive. Shoppers even have the ability to choose between two or four rear wheels, depending on the payload capacity that they need.
In terms of trim levels, the Silverado 3500HD offers three: There's a base-level Work Truck, a mid-level LT and an upscale LTZ.
Choose the Work Truck ($33,300), and you'll find only basic transportation. Designed for use on gritty job sites, this model includes only an AM/FM stereo with an auxiliary port (but no CD player), vinyl seating, air conditioning and little else. It's so basic that items most drivers take for granted, such as keyless entry and power mirrors, aren't even standard.
For a few more creature comforts, you'll need to step up to the LT ($36,500). It includes a more generous list of standard equipment, ranging from power mirrors and tinted glass to alloy wheels, a CD player, satellite radio and Chevrolet's MyLink infotainment system.
At the top of the range is the LTZ ($45,400), which is only available in double-cab or crew-cab configurations. It includes features such as fog lights, larger alloy wheels, chrome trim, a larger center touchscreen, leather upholstery with heated front seats, a backup camera, dual-zone automatic climate control, power folding mirrors and an automatic locking rear differential.
As you might expect, options are plentiful. In addition to the 6.6-liter Duramax turbodiesel engine, the truck offers everything from work-ready features -- such as a heavy-duty trailer package, 4-wheel drive, power adjustable pedals and rear park assist -- to high-end convenience features, including a lane-departure warning system and forward-collision alert.
Safety
The 2015 Silverado 3500HD includes standard side airbags, side-curtain airbags, traction control, stability control and daytime running lights. Optional safety features include a backup camera, park assist, forward-collision alert and a lane-departure warning system.
Due to the 3500HD's recent redesign, neither the National Highway Traffic Safety Administration nor the Insurance Institute for Highway Safety has crash-tested the pickup. Although previous-generation models earned average crash safety ratings, we expect the redesigned truck to perform better, thanks to its brand-new construction from the ground up.
Behind the Wheel
You won't find many surprises when you're driving a Silverado 3500HD. Although the workhorse pickup is fully redesigned for the 2015 model year with a new look and a heavily improved interior, any heavy-duty Silverado is still a full-size pickup, and that means light steering, huge dimensions and a high driving position. Interestingly, the Silverado also manages to provide a surprisingly quiet ride, canceling out road noise, wind noise and even the churning of the pickup's huge diesel engine.
Stepping inside, the Silverado 3500HD impresses with its highly modern new dashboard, which is a rarity in the heavy-duty-truck world, usually the last segment to see any modern advancements in equipment and styling. The pickup's rear-seat room is also impressive, especially in crew-cab models. We wouldn't suggest using it as around-town transportation for your family, but the Silverado 3500HD is just as capable carrying passengers in comfort as it is on the jobsite.
Other Cars to Consider
GMC Sierra 3500HD -- Check out the Sierra 3500HD, which is highly similar to the Silverado, right down to the styling. At the very least, the Sierra might be a better deal.
RAM 3500HD -- It's hard to ignore the heavy-duty RAM, which boasts amazing capabilities thanks to its available manual transmission, its torquey engine and its self-leveling suspension. But the latest Silverado is far more refined than the increasingly outdated RAM.
Ford F-350 -- Headed for a redesign soon, the F-350 isn't as refined as competitors from Chrysler or GM. But with an older design than its rivals, it may offer a better deal.
AutoTrader's Advice
It's hard to recommend the best Silverado 3500HD for you, largely because there are so many trim levels and styles available. Our suggestion: Take a long look at the choices and pick the one that suits you best. Want to haul around the whole family? That'll be the crew cab. Looking to haul a huge trailer? Go for the turbodiesel. Either way, you're likely to find something for just about everyone.