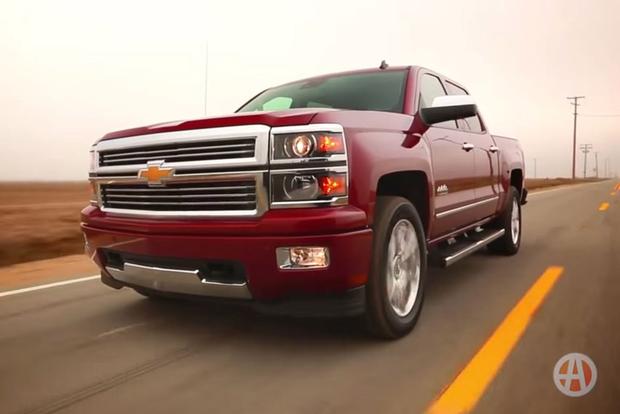 The 2015 Chevrolet Silverado carries on the good work from 2014's new generation. This full-size pickup is a major player in the market, with a huge following of loyal fans. We have five reasons why it's right up there fighting with Ford and RAM for best in class.
Power Spread
Whatever your half-ton-truck needs may be, there's a Silverado engine to fit the bill. The base 4.3-liter V6 makes a keen 285 horsepower, and the 5.3-liter V8 has 355 hp. The gutsy 6.2 V8 gives you 420 hp and can tow up to 12,000 pounds -- that's the weight of a fully grown elephant.
Solid Fuel Economy
Despite all that power, the Silverado still keeps your gas bills in mind. The V6 is the winner at 24 miles per gallon on the highway, but the 5.3-liter V8's right behind at 23 mpg. Even the 6.2 isn't bad at 21 mpg during highway driving.
Luxurious Ride
In terms of ride quality, the RAM 1500 has been the luxury truck in this segment for years, but the Silverado gives it a serious run for its money. The Chevy cruises quietly at any speed, which is pretty impressive for a beast like this. We're impressed by the supple suspension, too. It's a definite plus point.
Smart Interior, Clever Exterior
People these days expect trucks to be nice inside, and this Chevy totally nails it with classy materials, an available high-tech touchscreen interface and an overall look that borders on upscale. Out on the rear bumper, the CornerStep feature is a beautifully simple way to access the load bed.
Macho Styling
Do trucks get any bigger or bolder than this? We're sure they will, but for now, the Silverado is the styling champ. The grille looks like it came from an 18-wheeler, while the stance is strong and mean. If you want to make a forceful first impression, the Silverado has you covered.
Autotrader Says
You can't go wrong with any full-size truck these days. Tough competition makes everyone better, and the buyer is the real winner. If you're looking for the best truck on the market, the 2015 Chevrolet Silverado makes a country-strong case.