Car Video
2015 Chevrolet Trax: 5 Reasons to Buy - Video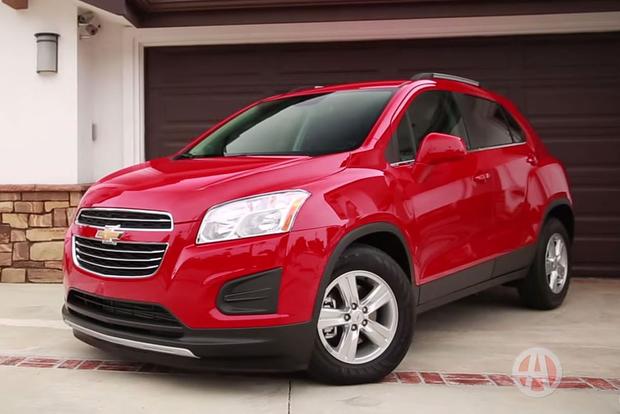 If you're looking for information on a newer Chevrolet Trax, we've published an updated review: 2018 Chevrolet Trax Review
The 2015 Chevrolet Trax is just right for this day and age. With more people living in cities, small vehicles are back in a big way, but folks still want the high driving position of an SUV. With its tiny dimensions and elevated seats, the pint-sized Trax is a perfect mix, and it has an appealing price tag, too. Here are five reasons to head over to your Chevy dealer.
Maximum Maneuverability
Do you have to park in "compact" spaces on a regular basis? Or parallel-park on busy streets? That's where the Trax really shines. Based on the subcompact Chevy Sonic hatchback, the Trax is only 8 inches longer, so we're talking about a pretty small crossover here. In fact, it's more of a Sonic on stilts than a different breed, so it's a great fit for a busy urban lifestyle.
Refined Highway Ride
Vehicles in this size class are rarely any good on the highway, but the Trax bucks the trend. If you find yourself in a 75-miles-per-hour zone, this Chevy will still be in its element, thanks to its impressive sound insulation and its compliant suspension. The steering is confidence-inspiring, too, requiring few corrections at high speeds. When you're on the open road passing 18-wheelers, the Trax doesn't feel small, and that's a big deal. See the 2015 Chevrolet Trax models for sale near you
Fuel-Efficient Engine
Every Trax is powered by a 1.4-liter turbo 4-cylinder engine, and it's respectably fuel efficient. With front-wheel drive, it gives you 26 miles per gallon in the city and 34 mpg on the highway. You can get all-wheel drive, too, and you'll still see 31 mpg hwy. That's an impressive showing for a crossover.
Flexible Storage
Although the Trax is tiny, it has plenty of room for your stuff. If you fold down the rear seatbacks, it opens up almost 50 cu ft. of space. The front seatback folds flat, too, in case you want to carry a couple surfboards around. It may essentially be a Sonic on stilts, but the Sonic hatchback can't come close to this level of versatility.
Generous Features
No matter which Trax trim level you choose, a crisp 7-in touchscreen with USB connectivity comes standard, and so does a 4G Wi-Fi hot spot. How cool is that? Step up to the LTZ and you get leatherette upholstery and a Bose stereo, but stick with the base LS and you'll still have plenty of features. The Trax offers a lot of value for a little crossover.
Autotrader Says
The 2015 Chevrolet Trax may not be an SUV in the traditional sense, but who actually goes off road anyway? This rig is built for the real world. Go see if it's the right fit your lifestyle. Find a Chevrolet Trax for sale