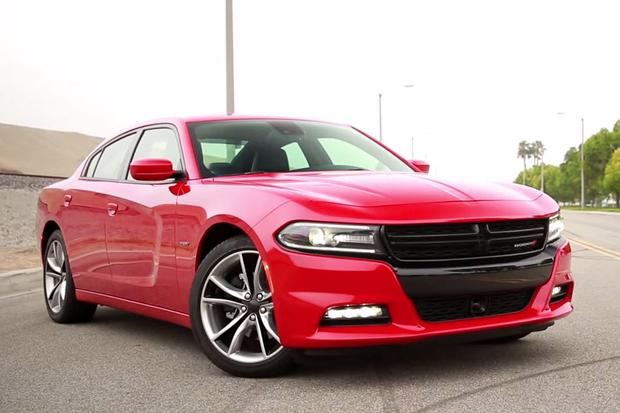 The Dodge Charger has come and gone over the years, but the latest Charger has upgraded performance and a restyled exterior that will turn heads. Here are five reasons why the 2015 Dodge Charger is here to stay.
Engine Options
Dodge has certainly expanded the Charger's options in the engine department. The current Charger offers several V8 choices, and Dodge's popular HEMI package will win over most buyers. The base model's 3.6-liter V6 also comes with optional all-wheel drive that's the most advanced in its class.
Restyled Exterior
For years, the Dodge Charger featured a retro look, but now the Charger has a nice, new contemporary edge to it. 17-inch premium alloy wheels come standard -- and how about the new LED headlights and taillights? Dodge hit it out of the park.
Exceptional Pricing
When you compare the field, the 2015 Dodge Charger is surprisingly affordable. Starting under 28 grand, it's rated right at the top of its large-car category. Through the entire Charger lineup, Dodge gives you solid bang for your buck.
Solid Miles Per Gallon Figures
On the road, the Charger is very efficient. Our R/T model offers a combined 19 mpg, and that's certainly not bad for a 5.7-liter HEMI. Both the SXT and SE models return a best-in-class 31 mpg on the highway. Across the board, the Charger doesn't sell you short at the pump.
Powerful Performance
In the past, the Charger was a muscle car not to be reckoned with, and the latest Charger holds true to those roots. The base SE and SXT V6 give you a solid 292 horsepower. Move up to the R/T, and the 5.7-liter HEMI gives you 370 hp. You can also opt for the 485-hp SRT and Scat Pack edition, but the 707-hp Hellcat leaves all competition behind.
Autotrader Says
With a new look and quite a few options to choose from, the Charger is staying at the top of the large-car game. If you're in the market, don't count this Dodge out.