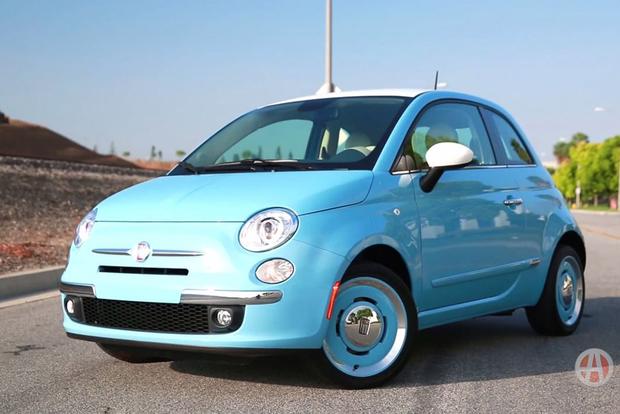 Who said economy cars can't have fun? Someone forgot to give FIAT the memo. The 2015 FIAT 500 is all about having a good time, but unlike other fun cars, it's bargain-priced, too. Are you looking to get the party started with your next set of wheels? Here are five reasons to let the beloved Cinquecento put a smile on your face.
Great Fuel Economy
The 500 is powered by a 1.4-liter 4-cylinder engine, and the base version gives you 31 miles per gallon in the city and a healthy 40 mpg on the highway. The automatic drops to 27 city/34 hwy, but that's still good for 30 mpg overall. The bottom line is that if you're used to driving a crossover or a larger car, this FIAT is going to save you some money at the pump.
One-of-a-Kind Styling
Try to think of another small economy car that's a styling icon. The Mini Cooper? Yes, but it costs thousands of dollars more. The same goes for the Volkswagen Beetle. The fact is, most cars at the same price point as the 500 are frankly kind of boring. Our test car was the special 1957 Edition, so it had cool touches such as color-matched wheels and chrome hubcaps. You'll definitely turn some heads in this thing.
Sport Mode
Here's something else you don't expect in an economy car: a Sport button. What happens when you press it? The steering tightens up, the throttle gets a little more responsive, and the automatic transmission shifts a bit more promptly. Where else can you find multiple personalities at such low cost? It's a fun-to-drive touch that helps set the 500 apart from the rest.
Thoughtful Interior
Take one glance at the 500's dashboard and you'll know it's special. FIAT offers rich color combinations to match your taste, and the design includes the 1957 Edition's exclusive flourishes. There are also fun features such as a digital gauge cluster, Bluetooth, a glass roof and automatic climate control. You can also fold the rear seatbacks to open up 30 cu ft. of cargo space, which is more than twice as much as a typical sedan can manage.
Bargain Pricing
We've been telling you that the 500 is a good deal, and here are the numbers to prove it. The base Pop model comes in under $18,000, and even the fancy 1957 Edition starts around $20,000. It's hard to believe there's a genuinely desirable European car available for that kind of money. If you're looking for the most fun under $20 grand, the Cinquecento is your best bet.
Autotrader Says
The 2015 FIAT 500 is rolling proof that economy cars don't have to be a drag. If you're bored with the status quo, FIAT has the cure.