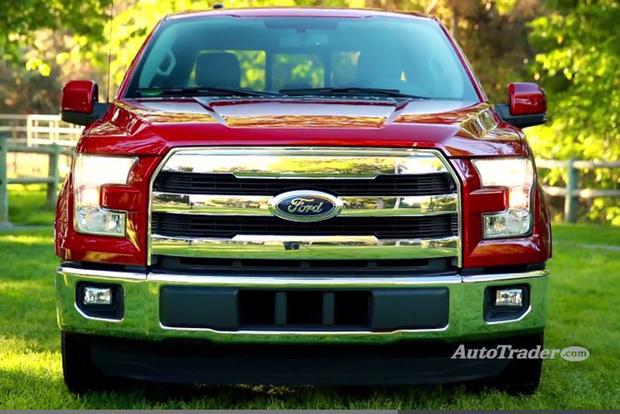 The 2015 Ford F-150 has made plenty of headlines for its use of aluminum body panels, but that's hardly the only feature that America's top-selling truck has going for it. Sure, those panels save some weight, but we shouldn't lose sight of the rest of the features that make this truck great. Here are five other reasons why the F-150 arguably remains the truck to beat.
Powerful and Fuel-Efficient Engines
Ford's all in on the turbocharging craze, and it's working. You can get a twin-turbo EcoBoost 2.7-liter V6 in the F-150 that pumps out 325 horsepower and 375 lb-ft of torque or a 3.5-liter EcoBoost V6 with 365 hp and 420 lb-ft. That's plenty of muscle, and you'll save on gas, too: The 2.7 gets up to 26 miles per gallon on the highway, while the 3.5 can squeeze out 24 mpg. With numbers like those, who needs a V8? Unless you just have to have that classic exhaust burble, this EcoBoost duo is bound to please.
Incredible Capability
If you're fixin' to do some serious towing and hauling, the F-150 won't disappoint. Even the base model can tow 7,600 pounds, while the 3.5-liter turbo can handle a ridiculous 12,200 pounds, and the payload rating tops out at 3,300 pounds (that's more than 1.5 tons). If Ford isn't careful, the wildly capable F-150 just might make the heavy-duty F-250 and F-350 obsolete.
Light on Its Feet
We're not sure if it's those aluminum panels or the turbo boost (or both), but the F-150 feels lighter on its feet than ever. It's remarkable. The steering's light and precise, the throttle's responsive and the whole truck just seems set up to make driving a breeze. Lots of families make crew-cab trucks their vehicles of choice, and the F-150's friendly driving character should endear it to every driver in your household.
Quality Interior
F-150 cabins have historically favored function over form, and the latest version follows this trend. In fact, there's more function inside the current model than ever before, but there are also soft-touch materials on the dash, crisp-looking gauges and a beautiful 8-inch touchscreen. It's not just a work truck; it's a luxury truck, too.
Big-Rig Styling
The F-150 is technically Ford's entry-level big truck, but the way it's styled, you'd think it was from the company's Super Duty lineup. The grille is Mack Truck massive, and the stance projects pure power from every angle. If you want your truck to look as tough as it actually is, it's hard to deny that this F-150 is the king of the hill.
Autotrader Says
There are lots of reasons why the 2015 Ford F-150 is America's favorite truck. Even if you're not into the whole aluminum thing, Ford's do-it-all pickup has got to be on your test-drive list.