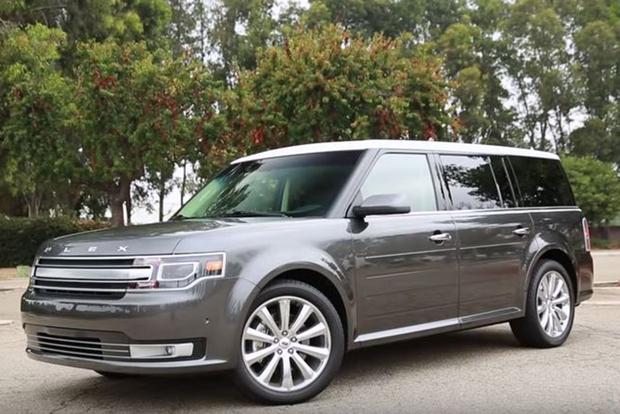 All-wheel drive? Yes. Space for the family? Sure. But the 2015 Ford Flex is neither an SUV or a minivan. Versatile and distinctively stylish, the Flex drives down its own road. We have five reasons why that's a good path to follow.
Romper Room
There's so much space, it's like having an extension on your house. This car can seat up to seven passengers. Headroom and legroom in the first two rows are superb. And there's a reason why it's called the Flex -- the layout is so flexible. The second and third rows of seats can fold flat, and so does the front passenger seat. Surfer types could easily throw some longboards in there.
Uncommon Styling
Nothing else looks like the Flex and much of that has to do with function. Its squared-off shape enables such amazing interior space without coming across like a minivan. These big passenger doors are perfect for easy entry and exit. The front end, meanwhile, has a strong yet smooth presence.
Driving Force
Although all-wheel drive is an option for pricier versions, even the most basic Flex still rides with as much composure and comfort as an upscale sedan. It packs a punch too, with a 287-horsepower V6. Or you could always get the turbo version for a mighty 365 hp in the bells-and-whistles Limited trim.
Feature Rich
Depending on the trim level -- SE, SEL or Limited -- the amount of available features can compete with luxury cars. This includes a huge sunroof, a refrigerated cabinet that's cold enough to store ice cream, power-folding rear seats, leather upholstery and a voice-controlled infotainment system that reads out your text messages.
Road Trip Ready
While it's great having extra seats every now and then, the Flex absolutely shines when a family of four -- and all their gear -- head for the hills and beyond. Cupholders and charging sockets become almost as important as comfortable seats and a quiet cabin, which is how the Flex works so well as a complete package.
Autotrader Says
Think of the 2015 Ford Flex as a midsize crossover that's completely crossed over to the road-going side, bringing a lot of space and features along for the ride.