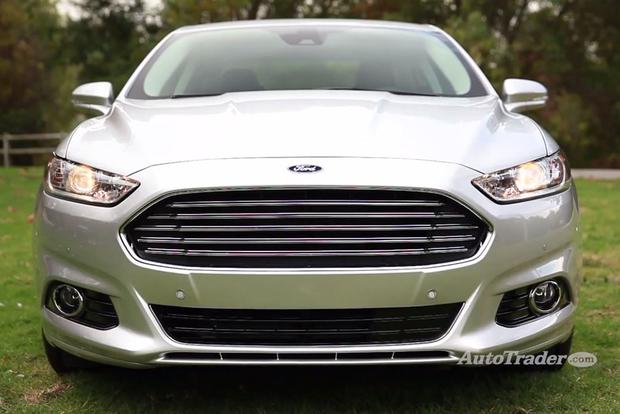 More and more car shoppers are going green, and they're giving the 2015 Ford Fusion serious consideration. The Fusion offers not one but two hybrid-powered variants, letting you choose the right package for your needs. You've probably heard of the regular Fusion Hybrid, which gets an amazing 44 miles per gallon in the city and 41 mpg on the highway. But what if you could have a plug-in hybrid that can get you around town solely on electric power? Enter the 2015 Ford Fusion Energi PHEV, which is like an electric car and a hybrid rolled up into one. Here are five reasons why it just might be the best Fusion of all.
Real-World EV Range
The plug-in Fusion Energi has a larger battery pack and electric motor than a typical hybrid, so its EV mode really works. You can drive the Energi as an electric car for about 20 miles per charge, which is enough to get a lot of folks to work. Don't worry about top-speed limitations, either; whereas certain plug-in hybrids (ahem, Toyota Prius Plug-In) cap you at less than 65 miles per hour in EV mode, the Fusion Energi can easily keep up with freeway traffic on battery power alone. If your commute is short enough, you might not have to fill up your gas tank for months.
Quick Charging Times
On standard 120-volt current, the Fusion Energi needs to plug in for about 7 hours in order to recharge completely. If you can find a place in your employer's garage, that means you can charge up while you're putting in your time, which can double your effective EV range. Better yet, find a 240-volt charging station, in which case you'll only need 2.5 hours per charge. Ford will even sell you a 240-volt charging station for home installation. Bottom line, it's easy-peasy to keep the Energi's battery juiced up and ready to go.
Road-Trip Ready
Like the Chevrolet Volt and other plug-in hybrids, the Fusion Energi's 4-cylinder gas engine always has your back. If the battery runs out while you're in EV mode, the gas engine kicks in automatically, turning the Fusion Energi into a conventional gas/electric hybrid until the next charge. That means you don't need a backup car for longer trips; the Fusion Energi can do it all. It's like having two cars in one, and when you're in hybrid mode, you still get an impressive 38 mpg. That's almost as frugal as the Fusion Hybrid itself.
Drives Like a Fusion
Aside from its fancy hybrid hardware, the 2015 Ford Fusion Energi drives like any other Fusion. You get dynamic, Euro-inspired handling and a remarkably quiet ride. Most plug-in hybrids aren't exactly fun to drive, but the Fusion Energi breaks the mold. It'll even whisk you to 60 mph in about 8 seconds with the gas engine online, though you'll have a more leisurely trip in EV mode.
Spacious Back Seat
Unlike the compact Volt, the midsize Fusion Energi offers generous space for passengers. The back seat is roomy enough for a couple 6-footers, while the front seats offer plenty of legroom and enough adjustments for almost anyone to get comfortable. Some plug-in hybrids feel more like science experiments than practical cars for the real world, but the Fusion Energi is ready for family duty from day one.
Autotrader Says
The 2015 Ford Fusion Energi is a versatile and rewarding family sedan that just so happens to be an excellent plug-in hybrid vehicle, too. There are lots of reasons to give this do-it-all green machine a shot.