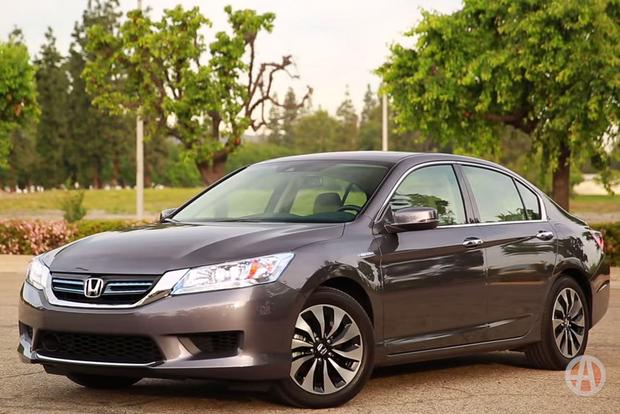 The 2015 Honda Accord Hybrid is a midsize sedan with a talent for saving gas, and it can certainly out-perform a Prius. This is the car that makes hybrid driving enjoyable. Here are five reasons why the 2015 Honda Accord Hybrid is a must-drive for people who are keen on being green.
Fantastic Fuel Economy
According to the Environmental Protection Agency, the Accord Hybrid gets an incredible 50 miles per gallon in the city, 45 mpg on the highway and 47 mpg overall. That trounces the Toyota Camry Hybrid's 41 mpg combined.
Reasonable Price
Some hybrids don't make financial sense because the initial higher cost over a regular car can never be recovered by fuel savings. Starting at around $30,000 and nicely equipped, the Accord Hybrid does make sense. Compared with a V6-powered Accord that costs about the same, the Hybrid is much more fuel-efficient, so you'll be saving money every time you fill up the tank.
Spacious Interior
Unlike the Prius and other hybrid economy cars, the Accord Hybrid is a sizable sedan, so you don't have to compromise on space. Want to carry a couple of 6-footers in the back? No problem -- check out all that room back there. Not bad for 50 mpg, huh?
Drives Like an Accord
The Accord has always been known as the driver's car in its class, and the new Hybrid stays with the program. If you're looking for a hybrid sedan that's not a total yawn-mobile, you'll like this Honda. The Accord Hybrid feels every bit as responsive on the road as its conventional siblings, and it even has a total of 196 horsepower for when you need that extra push.
Plug-In Version Available
Honda also offers a plug-in hybrid Accord with around 13 miles of electric-only driving. You can plug it in at home or work to recharge, and when it runs out of battery power, its gas engine gets almost the same fuel economy as the regular hybrid.
Autotrader Says
If you want power but not the fuel bills that go with it, the 2015 Honda Accord Hybrid is an ideal choice in an ideal package.