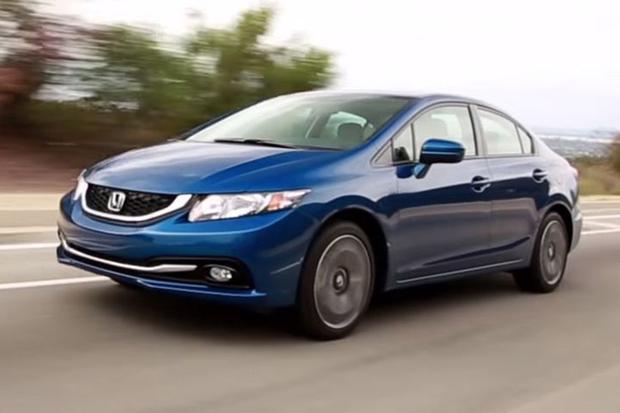 If you're looking for information on a newer Honda Civic, we've published an updated review: 2019 Honda Civic Review
When you think of big-name economy cars, they don't get any bigger than the 2015 Honda Civic. The Civic has been winning over American drivers for decades with its enticing blend of value, efficiency and even a little fun. More recently, Honda has thrown in some nifty technology features, too. Here are five reasons why Honda's small sedan is a perennial favorite.
Strong Fuel Economy
If you're considering a Civic sedan, chances are it will have the 1.8-liter 4-cylinder engine with a continuously variable transmission (CVT). The CVT works like an automatic, except it has infinitely variable gearing, so it's always in the sweet spot. According to the Environmental Protection Agency (EPA), the Civic with the CVT gets 39 miles per gallon on the highway -- and if that's not enough, there's an HF trim level with a few tweaks that yields 41 mpg hwy. If you're a fan of manual transmissions, don't fret; Honda still offers a 5-speed stick shift, and it's one of the slickest you'll find.
Tech-Tastic Interior
Every Civic starts with a 5-inch central infotainment display, and the 2-tiered dashboard ready for the optional 7-in touchscreen on EX trims and above. Bluetooth comes standard across the lineup, as does a USB audio input. Civics used to be pretty basic, but these days they're getting close to cutting-edge. Of course, many Civic devotees care more about reliability and simplicity, but it's nice to know the technology's there if you want it. See the 2015 Honda Civic models for sale near you
Accommodating Rear Seats
The Civic may be small on the outside, but it has plenty of passenger space in the back. You can put a couple lanky dudes in the outboard positions, and they won't complain a bit. Plus, the rear floor stays flat, even across the middle, with no center hump to get in the way. If someone's in the middle, their feet will be on the same level as everyone else's.
Dependable Driving Dynamics
You know what you're getting into when you grab the keys to a Civic. Its sporty behind-the-wheel feel makes it more fun to drive than the Corolla. But here's a surprise -- the Civic is also quieter than ever, and it has a supple ride, too. It continues to be a rewarding car to drive.
Wide Range of Models
If you're not satisfied with the regular Civic, don't give up yet. Try the Civic Hybrid, which gets a whopping 47 mpg hwy, or the performance-tuned Civic Si, which boasts a 205-horsepower engine and a 6-speed manual transmission. Want a coupe? There's one of those, too. Honda has a Civic for every sensibility.
Autotrader Says
The 2015 Honda Civic is a global best-seller for good reason. Go see what the fuss is all about. Find a Honda Civic for sale