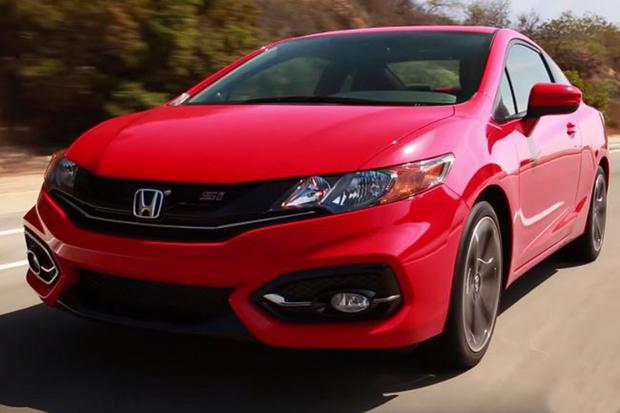 The 2015 Honda Civic Si Coupe is the latest chapter in a legend. For decades, the Civic Si has served up cheap thrills to enthusiasts around the world, and it's only getting better with age. With Honda reliability in a sport-tuned package, you can't go wrong for the money. Here are five reasons to put a Civic Si through its paces.
Thrilling Powertrain
The defining trait of every Civic Si has been its high-revving 4-cylinder engine, and that's still true today. There are 205 horses under that hood, and if you want them all, you have to drive it hard. That means shifting at the 7,000-rpm redline, right before the limiter cuts in. It's a blast, and the 6-speed manual shifter is one of the very best.
Slot-Car Handling
The current Civic Si has a firmer suspension than before, so there's even less body roll in corners. It also gets a mechanical limited-slip differential up front to put the power down when you need it. Result? The car feels completely dialed in. That's a lot of performance for the price.
Sporty Interior
Sure, the Si is based on an economy car, but you know you're in something special when you're behind the wheel. The red stitching is a Si exclusive, along with the short shifter and its aluminum shift knob. Even the pedals are aluminum, and every Si gets sport seats and distinctive red lighting on the dashboard.
Tons of Tech
If you're expecting a stripped-down interior, you haven't been in a Si lately. This car comes loaded up with technology, including a tabletlike 7-inch touchscreen and a separate digital information display. You can even have your texts read aloud to you.
Value Proposition
Although the Civic Si is a performance car, it's also a Honda, and that means two things: It's not expensive to begin with, and it shouldn't be costly to maintain. Just change the oil on time, and the Si should keep you smiling for years to come.
Autotrader Says
There's a bunch of desirable performance cars for around $25,000, but there's only one Honda. If you want a sporty car that's sensible too, give the 2015 Honda Civic Si Coupe a shot.