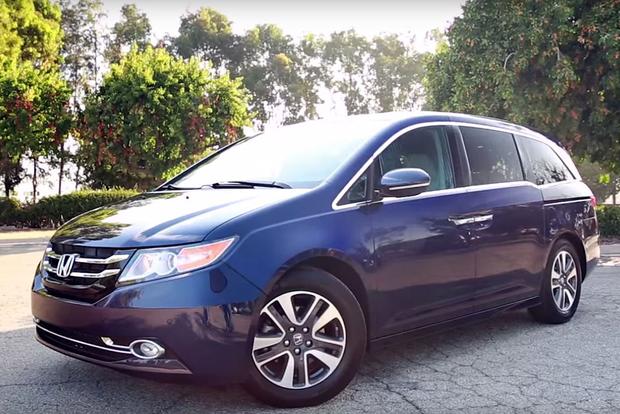 The 2015 Honda Odyssey is always a heavy hitter in the minivan segment. Honda has the formula down pat, and the Odyssey just keeps giving families what they want year after year. But don't assume Honda's resting on its laurels; on the contrary, the Odyssey has consistently improved each year. Here are five reasons why this family hauler is at the top of its game.
Distinctive Styling
Minivans aren't typically known for their memorable styling, but the Odyssey's actually a sight to behold. The aerodynamic front end almost looks sporty, and then there's the signature beltline with its zigzag below the rear-side window. Most family vehicles are easy to lose in a parking lot, but this Honda stands out. And why not? Every family likes to have a little fun.
Impressive Power and Fuel Economy
The Odyssey comes standard with a 248-horsepower 3.5-liter V6 engine that includes Honda's VTEC system. It gives you a nice kick at high rpm when you're merging or passing, but the best part is it also returns 28 miles per gallon on the highway. That's almost as frugal as a V6-powered family sedan, which isn't bad for a vehicle that's shaped more like a delivery van.
Features Galore
The Odyssey comes well-equipped, even in base LX trim, with features such as alloy wheels, an 8-inch infotainment display and Bluetooth. Move on up to the EX, and you get power-sliding doors and an additional 7-in touchscreen, while the Touring gets a widescreen rear-seat entertainment system. There's a ton of cool stuff in this van.
Enormous Interior
Even by minivan standards, the Odyssey's downright huge inside. There's room for adults -- or adult-sized kids -- in all three rows, but you don't even know the half of it. If you fold the rear seat into the floor and remove the second-row seats, you'll have almost 150 cu ft. of cargo space. That's more space than a Chevrolet Suburban gives you, and if you really want to compare the two, just take a look at the Chevy's fuel economy ratings.
Kind of Fun to Drive
We say "kind of" because there's only so much the suspension engineers can do with such a huge vehicle. But the Odyssey really does have a sporty feel, with precise steering and surprisingly little body roll. You'll appreciate it when you're on a family trip and the road gets a little more windy than you expected. For parents who love to drive, the Odyssey is in pole position.
Autotrader Says
The 2015 Honda Odyssey is a chart-topping minivan for plenty of reasons. If you're shopping for a new van, this one's a must-drive.