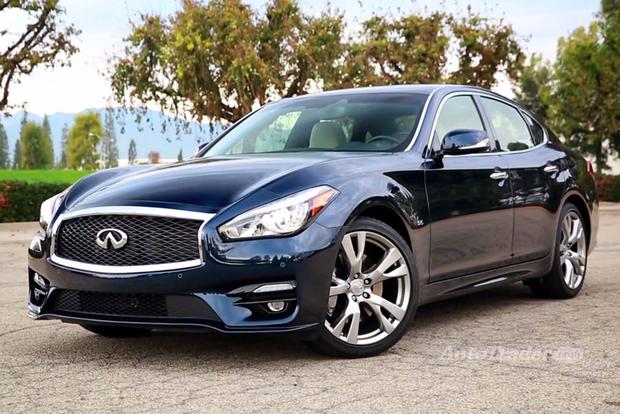 If you're looking for information on a newer Infiniti Q70, we've published an updated review: 2019 Infiniti Q70 Review
The 2015 Infiniti Q70 is often overlooked among midsize luxury sedans, but it shouldn't be. With available hybrid or V8 power, a unique long-wheelbase model and beautiful styling, the Q70 is fit for a king or a queen. This Infiniti isn't just nice for a Japanese car; it's ready to challenge the German aristocracy on its own terms. Here are five reasons to give Infiniti's underdog a chance.
Engine Choices
The Q70's base V6 is certainly no slouch; it gives you 330 horsepower right out of the box. But you can also get a hybrid model that provides 360 hp and a remarkable 34 miles per gallon on the highway. Still not impressed? Try the top-shelf 420-hp V8, which does 0-60 in about 5 seconds flat. The V8 isn't exactly a champ in the fuel economy department, but it makes sweet noises when you push it, and it's strong enough to compete with luminaries such as the BMW 550i.
Sport-Sedan Handling
The Q70 has a proper rear-wheel-drive layout, though all-wheel drive is available, and that means it handles like a sport sedan should. The steering is ultraprecise, and while the Q70 is hardly a small car, it does feel small when you're putting it through its paces. If you're looking for a midsize luxury sedan that can keep up with sports cars on a winding road, the Q70 delivers the goods, and unlike most other cars with this kind of capability, it brings Infiniti's solid reputation for reliability, too. See the 2015 Infiniti Q70 models for sale near you
Luxurious Seating
The Q70's front seats deliver outstanding comfort on long hauls, and they also have Bose speakers built into the backrests. Rear-seat comfort is laudable as well, but if you really want space to stretch out, the Q70 has an ace up its sleeve. The long-wheelbase Q70L gives you significantly more rear legroom, and it's a lot cheaper than an executive car such as the S-Class or 7 Series. It's odd to think of a full-on luxury car as being a bargain, but in the realm of extended-wheelbase sedans, the Q70L is just that.
User-Friendly Technology
The Q70 doesn't have a newfangled control knob between the seats for its infotainment system, and that's fine by us. What it does have is an intuitive control layout and an ergonomic touchscreen that makes your life easier. There's no need to bust out the owner's manual, and that's highly unusual in this class. In these complicated times, simplicity can definitely be a selling point.
Unique Style
Suffice it to say that a cookie cutter was not involved in the Q70's design. No rival can match the Q's curvaceous lines that flow from nose to tail. Are you tired of luxury sedans that all look the same? Infiniti has your antidote right here, because the Q70 is always dressed to impress.
AutoTrader Says
The 2015 Infiniti Q70 is one of those cars that deserves more attention than it gets. Give it a shot, and you might be pleasantly surprised. Find a Infiniti Q70 for sale