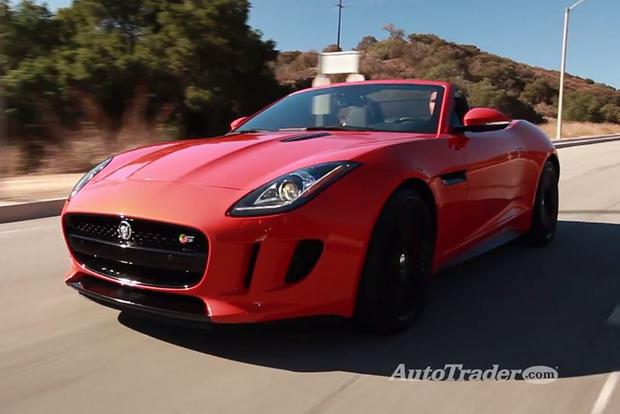 If you think of Jaguar as just a stuffy British brand, the 2015 Jaguar F-Type is guaranteed to change your perspective. Jaguar's show-stopping roadster is a dead-serious sports car, with its sights set squarely on performance icons such as the Chevrolet Corvette and Porsche 911. In other words, the F-Type has big-league aspirations, and if you take one drive, we think you'll be a believer. Here are five reasons why the F-Type Roadster is every bit as good as you've heard.
Luscious Looks
For many shoppers, the F-Type's gorgeous styling will justify the price of admission by itself. Featuring classic sports-car proportions, a feral grille and one of the most voluptuous rear ends on four wheels, this Jag turns heads wherever it goes. Corvettes and 911s are a dime a dozen these days, but the F-Type has an exotic air about it that sets it apart. If you're looking for a premium roadster with jaw-dropping lines, it's hard to do better than the F-Type.
Serious Supercharged Power
Whether you choose the V6 or the V8, the F-Type can get its speedometer needle spinning with the best of them. It's strange to call the V6 an entry-level engine, since it's supercharged and makes up to 380 horsepower (more than the base 911 Carrera can manage). But if you really want to get down to business, you'll want the optional supercharged V8, which pumps out 495 hp and sounds fantastic doing it. When you pull out to pass and that V8 hits its stride, the F-Type is one of the most thrilling cars on the road.
High-End Appointments
The term "sports car" used to be synonymous with a bare-bones interior, but this is a Jag, so things are going to be different. A glance around the cabin reveals contrast stitching on the seats and trim panels, and seemingly every surface you touch has an expensive feel to it. The F-Type also has power-rotating center vents that'll mesmerize your passengers. Performance is the F-Type's number one job, but luxury is a close second.
Versatile Convertible Top
Unlike some other high-buck drop-tops, the F-Type employs a traditional fabric roof, and we think that's a plus in this case. For one thing, it saves weight, which helps the F-Type go faster. Jaguar did a great job with the soft-top's insulation, too, keeping the cabin pretty quiet at speed. And thanks to the roof's relative simplicity, you can retract it in just 12 seconds at speeds up to 30 miles per hour.
Sticks Like Glue
That may all be well and good, but does the F-Type handle like a sports car should? Trust us, it does. Jag's stunning roadster stays remarkably flat through fast corners, and all of its responses are as cat-quick as you'd expect. The platform is so rigid that there's hardly a single quiver on rough roads. Forget about the overwrought XK convertible and other luxury-oriented older Jaguars, because the F-Type is the real deal for driving enthusiasts.
AutoTrader Says
The 2015 Jaguar F-Type is a legitimate sports car that happens to be a luxury car, too. Do yourself a favor and try the supercharged V8; we wager you'll never tire of hearing it sing that throaty song.