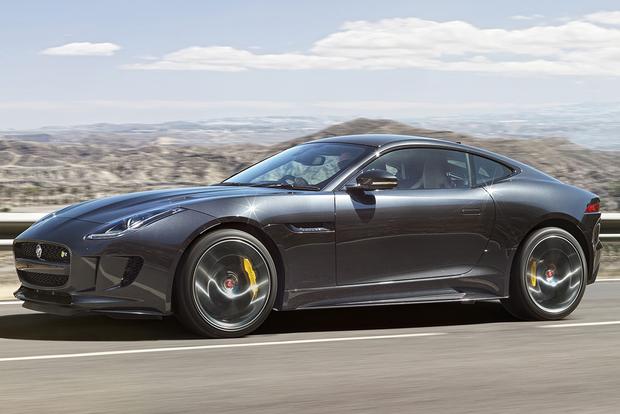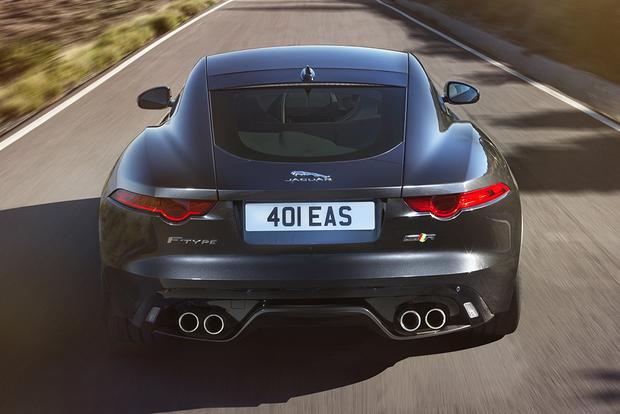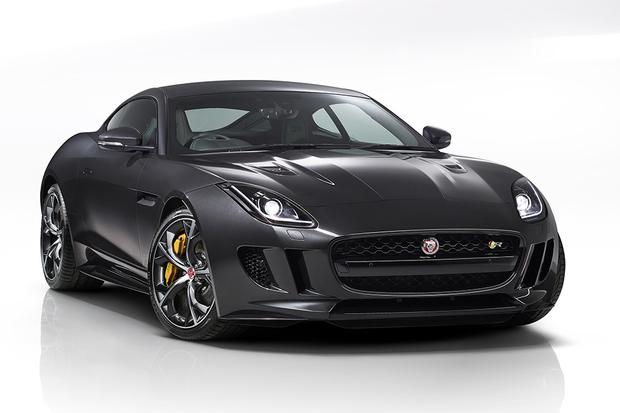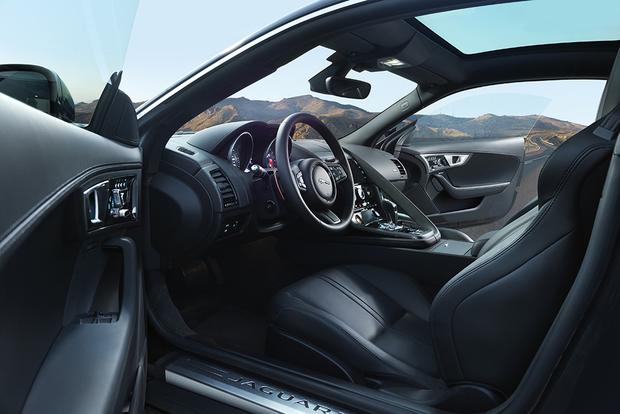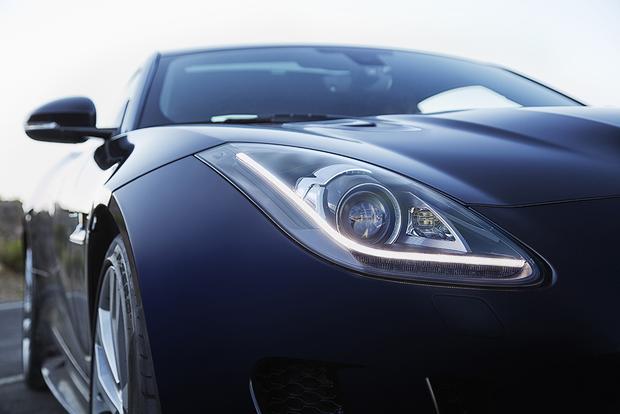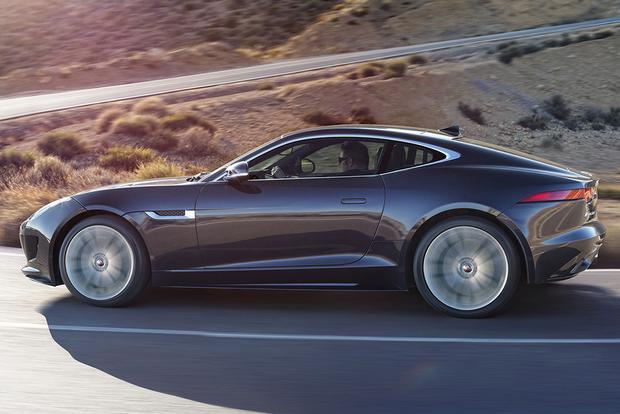 When folks think of Jaguars, the 2015 Jaguar F-TYPE probably isn't what comes to mind. Stereotypes die hard, so many of us still associate the Jaguar brand with cosseting luxury cars that have flip-down wooden tray tables in back. But once upon a time, Jaguar was also known for building a beautiful 2-seat sports car: the iconic E-Type of the 1960s and '70s. It's that sporting spirit that the 2015 F-TYPE is meant to evoke.
And does it ever. From the narrow, slashing taillights in back to the gaping maw up front, the F-TYPE's hunger for the open road is apparent before you even get inside. Press the start button, which pulsates red, and one of two magnificent engines roars to life: a supercharged V6 or an astonishingly swift supercharged V8. Toss the baby Jag into a tight corner, and it responds with razor-sharp reflexes and control. Oh yeah. It has that sporting spirit, all right.
Quibbles? The prim dashboard layout holds far less visual interest than the car itself, and we see a bit too much Nissan 350Z in the F-TYPE's headlights. There's also no manual transmission available, whereas rivals such as the Chevrolet Corvette and Porsche's Boxster and 911 continue to offer stick shifts.
But overall, the new F-TYPE is easily one of the hottest sports cars on the planet. When folks think of Jaguars 10 or 20 years from now, they just might think of this dashing F-TYPE first.
What's New for 2015?
The F-TYPE welcomes a slinky coupe body style into the fold.
What We Like
Strong acceleration in any model; optional supercharged V8 is truly epic; highly capable handling; luxurious interior; a real head-turner
What We Don't
No manual or automated-manual transmission; stiff ride; small trunk
How Much?
$65,925-$99,925
Fuel Economy
The base F-TYPE models are powered by a supercharged 3.0-liter V6 rated at 340 horsepower and 332 lb-ft of torque. According to the Environmental Protection Agency (EPA), it returns 20 miles per gallon in the city and 28 mpg on the highway.
The F-TYPE S models get a tweaked version of the V6 that's good for 380 hp and 339 lb-ft. Fuel economy drops a smidge to 19 mpg city/27 mpg hwy.
The F-TYPE V8 S upgrades to a supercharged 5.0-liter V8 that pumps out 495 hp and 460 lb-ft. Fuel economy checks in at 16 mpg city/23 mpg hwy.
The F-TYPE R also employs the supercharged 5.0-liter V8, but in this application it's rated at 550 hp and 502 lb-ft. Its fuel economy is identical at 16 mpg city/23 mpg hwy.
All F-TYPE models employ rear-wheel drive and an 8-speed automatic transmission.
Standard Features & Options
The 2015 F-TYPE is available as either a 2-seat convertible with a power-retractable soft-top or a 2-seat coupe. Both convertible and coupe come in F-TYPE and F-TYPE S trim levels. The V8-powered models branch off, with the V8 convertible offered as the F-TYPE V8 S and the V8 coupe as the F-TYPE R.
The base F-TYPE ($65,925) starts with the 340-hp V6, 18-inch alloy wheels, bi-xenon headlights, LED accent lights, an automatically deploying power rear spoiler, steering-wheel-mounted shift paddles, a sport exhaust with center-mounted dual tailpipes, leather/suede cloth upholstery, 6-way adjustable seats, an 8-in touchscreen infotainment system, an integrated navigation system and a 10-speaker, 380-watt Meridian audio system.
The F-TYPE S ($77,925) steps up to the 380-hp V6, 19-in wheels, orange shift paddles, an adaptive sport suspension, an active sport exhaust, a mechanical limited-slip differential, power-folding heated mirrors with LED turn signals and puddle lamps, keyless entry/start and configurable ambient interior lighting.
The F-TYPE V8 S ($92,925) is treated to the V8 engine, 20-in wheels, a driver-adjustable sport exhaust with quad tailpipes, upgraded brakes, an electronic active limited-slip differential, auto-dimming mirrors, dual-zone automatic climate control, leather upholstery, 14-way power seats and rear parking sensors.
The F-TYPE R ($99,925) shares much of its equipment roster with the F-TYPE V8 S but adds an even sportier torque-vectoring differential, sport seats with inflatable side bolsters and various other performance-themed upgrades.
Most options are bundled into packages, with availability dependent on trim level. Highlights include sport seats, heated seats, a heated steering wheel, extended leather upholstery, carbon-fiber trim and a 12-speaker, 770-watt Meridian audio system.
The F-TYPE convertible's power-folding soft-top takes 12 seconds to go up or down, and it can be operated at speeds up to 30 miles per hour.
Trunk space is at a premium in the convertible, measuring just 7 cu ft. The coupe is only marginally more accommodating at 11 cu ft.
Safety
The 2015 Jaguar F-TYPE comes with standard stability control, 4-wheel anti-lock disc brakes, rollover hoops behind the headrests (for the convertible) and four airbags (front and side). There are a few optional safety technologies as well, including a rearview camera, rear cross-path detection and a blind spot monitoring system.
Crash-test data on the F-TYPE is not available.
Behind the Wheel
In our interior evaluation, we were struck by the relative plainness of the F-TYPE's dashboard and controls. Materials quality is very good, and everything seems to be screwed together reasonably well, but there's nothing particularly memorable about the way this cabin looks. If it were our F-TYPE, we'd opt for the cool-looking sport seats, which help dress up the place -- just as (obscure historical reference alert!) the E36 M3's Vader seats did back in the day. The available extended leather trim also adds character, especially when an adventurous color is chosen.
Acceleration is strong in any F-TYPE, as befits a premium sports car. Speed is in this car's DNA. That said, we can't imagine forgoing the supercharged V8 for any reason other than an inability to pay. This is quite simply one of the best engines in any car, delivering awe-inspiring power with a crackling soundtrack to match. Flooring the V8's throttle at about 60 mph is an experience you'll not soon forget. The V6-powered versions are authoritative in their own right, but the F-TYPE feels incomplete without that V8 under the hood.
On winding roads, the F-TYPE is less involving than Porsche's best, but it's unquestionably a world-class sports car with formidable capabilities. A proper manual transmission, or even a dual-clutch automated manual, would likely close the gap. High-speed stability is superb, though the ride is certainly on the stiff side. A phrase that comes to mind is the gentleperson's sports car, and we suspect that's more or less what Jaguar had in mind.
Other Cars to Consider
2015 Chevrolet Corvette Stingray -- The Corvette is comparable in many respects to the V8-powered F-TYPE models, and it costs much less.
2015 Porsche Boxster -- For pure driving enjoyment, it doesn't get any better than the Boxster. However, there's no engine in the Boxster's portfolio that can match the Jag's V8.
2015 Porsche 911 -- The larger 911 competes closely with V8-engined F-TYPE models in both price and performance.
Used Jaguar XK -- The pricier XK coupe is considerably older than the F-TYPE, but it's also more refined, and you can find a lightly worn example for a similar price (or less).
Autotrader's Advice
Once you drive the V8, there's no going back, so just keep that in mind when you're at the dealership.