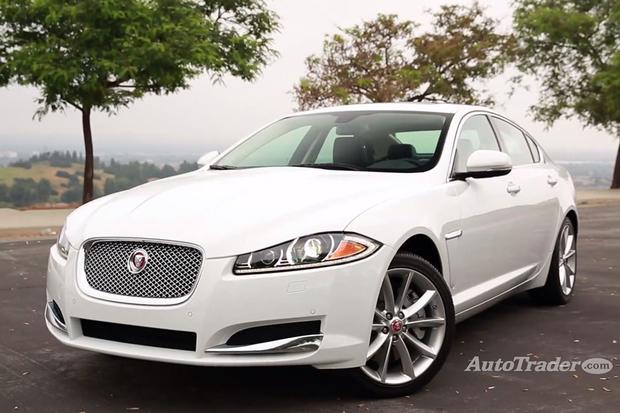 The 2015 Jaguar XF is a great option if you're tired of typical luxury sedans. They're so predictable, right? BMW, Mercedes and Lexus -- it's just the usual suspects, over and over again. But the XF isn't afraid to march to its own beat. And if you ante up for the supercharged V8, it marches faster than just about any 4-door on the planet. Here are five reasons why this cat might be right for you.
Turns Heads
Some people might buy luxury sedans to blend in, but if you ask us, it's better to have a little swagger. That's what the XF brings, thanks to its lidded cat-eye headlamps and leaping Jaguar on the trunk lid. At a glance, you might even mistake the XF for a powerful performance coupe. It's definitely a head-turner.
Goes Very Fast
The XF offers a wide range of engines, starting with a fuel-efficient 4-cylinder turbo. With looks like these, however, you've got to have a motor to match. The supercharged V6 puts out 340 horsepower, so that will do, but we're partial to the supercharged 5.0-liter V8, which makes anywhere from 470 to 550 hp. Now we're talking. When you drive off with that V8 under the hood, you're going places.
Keeps You Comfy
The Jaguar brand is associated with the best in British luxury, and the XF won't let you down. The seats are snug and supportive, and the materials are first-rate. The dashboard has a sleek look to it, too, and we love the trademark Jaguar rotary shifter that rises out of the console when you press the ignition button. Practically everything in the XF's cabin screams luxury.
Handles Like a Sports Car
Luxury-car drivers typically stick to the boulevards, but if you find a twisty 2-lane road in your XF, you're going to love the car even more. The steering is ultraresponsive and precise, and there's not much body roll. People throw around the term "sport sedan" these days, but the XF is the real deal. Trust us -- we've driven the XF on an actual racetrack, and it had all the moves.
Devours All Your Stuff
By segment standards, the XF's trunk is enormous. The spec sheet says it can hold 17.7 cu ft. of cargo, and that's huge for a midsize sport sedan. A practical Jaguar? You got that right. Feel free to bring a few of your friends on a weekend trip, because all your luggage will fit just fine. This is just another area in which the XF stands out.
Autotrader Says
The 2015 Jaguar XF is one of the most exciting sedans on the market. If you're tired of the tried and true, go see what Jaguar's up to.