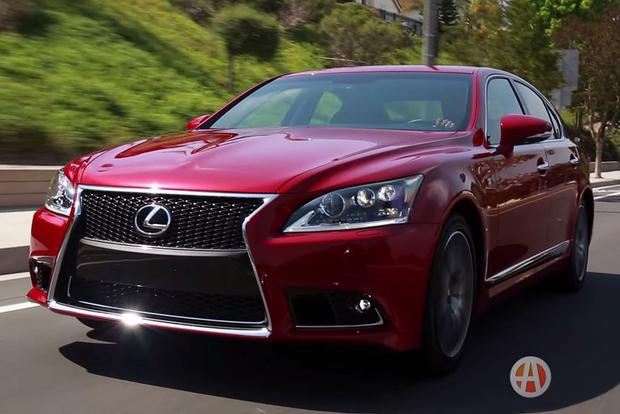 The 2015 Lexus LS 460 is a full-size luxury sedan with history on its side. Back in 1990, the original LS 400 took the executive-sedan segment by storm, offering plenty of power and features, along with unprecedented reliability and value. It served notice to the Germans that things would never be the same, and sure enough, brands like BMW and Mercedes have since taken a lot of cues from the Japanese brand. Here are five reasons why today's LS 460 continues to impress.
Assertive Looks
Back in the day, the Lexus LS was known for its conservative styling, but these days, it's all about making an impact. The Lexus "spindle grille" is in full effect up front, and it really gives the LS an aggressive face. The rear end is a little more restrained, but overall, this car makes a strong first impression. Look at it from the side, however, and you'll see that the classically graceful LS profile is still present and accounted for.
Exquisite Interior
You expect a high-quality cabin in a Lexus, and with the LS 460, that's exactly what you get. The details are exceptional, including the contrast stitching at the seams and the rich wood inlays. Everywhere you look and touch, you'll get the sense that Lexus went above and beyond. LS 460 drivers will never feel like they settled for second-best.
Regal Ride
If you're looking for the smoothest ride in this segment, you might find it in the LS 460. It's hard to pick a clear winner, but the LS is a top contender with its sophisticated suspension and ultra-absorbent shocks. No matter how gnarly the pavement, the LS 460 keeps its cool. The handling isn't bad through bends, either, as the LS has good body discipline for a big sedan.
Refined V8 Engine
The LS 460's 4.6-liter V8 is rated at 386 horsepower, and that's actually not a whole lot these days. But when you give it the spurs, it feels just right. The power builds to a crescendo at redline, and there's a thrilling soundtrack to match. Plus, it's available with either rear- or all-wheel drive, so there's a configuration for every climate.
Advanced Technology
Lexus uses its Remote Touch system in the LS 460, which means you get a mouselike controller on the center console. The 12-inch display screen is a thing of beauty, and the system's capabilities are incredibly diverse. Techie types will definitely dig what the LS can do.
Autotrader Says
Like its ancestors, the 2015 Lexus LS 460 has reliability and value on its side, too. The bottom line? The Lexus LS is always going to be a must-drive in this class.