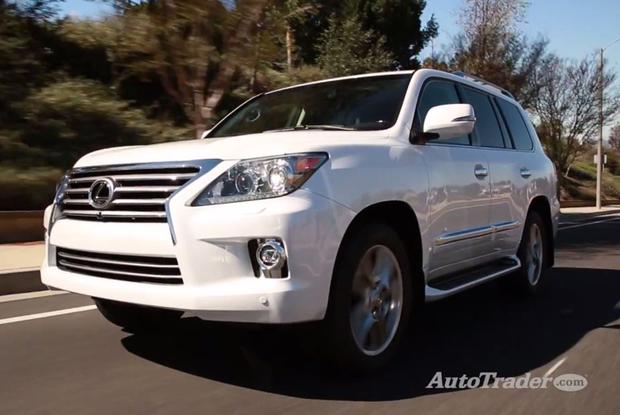 The 2015 Lexus LX 570 is straight out of the old school, and we mean that as a compliment. This traditional, body-on-frame SUV can play the role of a luxurious family vehicle on the pavement, but unlike most rivals, it's also a trail-busting beast when the mood strikes. Are you looking for a luxury SUV that can do it all? If so, we have five reasons to try an LX on for size.
Serious Skills
The LX 570 is based on the legendary Toyota Land Cruiser, so you know it'll perform off the beaten path. It starts with standard 4-wheel drive that includes low-range gearing, but there's a lot more going on underneath. The height-adjustable suspension maximizes wheel articulation on rocky terrain, for example, and the advanced crawl-control system gives you set-it-and-forget-it control. Even if you don't use the LX's abilities often, it's nice to know that they're there if you need them.
Workhorse V8
The 570 in the LX's name comes from its 5.7-liter V8 powerplant, which gives you an intimidating 383 horsepower and 403 lb-ft of torque. When you open it up, it really rips. But the thing is, it's so smooth in normal operation that you almost forget it's there. It can be a beast, for sure, but only when you wake it up; otherwise, it has all the manners that the LX's lofty price would suggest.
Ultimate Luxury
The LX 570 is designed to compete against the world's finest SUVs, so it comes standard with all sorts of stuff, including quad-zone climate control, a power-adjustable second-row seat and an 8-inch touchscreen. You'll also want to spring for the optional 19-speaker Mark Levinson audio system; if you don't believe us, give it a listen before you make up your mind. A loaded-up LX 570 is one of the most opulent SUVs in the world. Think Japanese Range Rover, and you won't be far off.
Cavernous Capacity
One of the great things about the LX is that it's equipped with three rows of seats with room for eight people, so it's almost like having a minivan. Well, a minivan that could probably take down the Rubicon Trail if need be. Also, that split third-row seat has a power folding mechanism that makes it easy to clear the decks for cargo.
Easy to Drive
Every generation of the Lexus LX has managed to feel smaller than it is from behind the wheel, and the current model is no exception. The LX is a behemoth, no doubt, but the compact steering wheel and expertly tuned suspension make it feel totally manageable. Anyone could enjoy driving this rig. In other words, you don't have to be an off-road enthusiast to be an LX lover.
Autotrader Says
The 2015 Lexus LX 570 has been around for a while now, but it's still at the top of its game. Go see what it's like to drive one of the most capable vehicles on the planet.