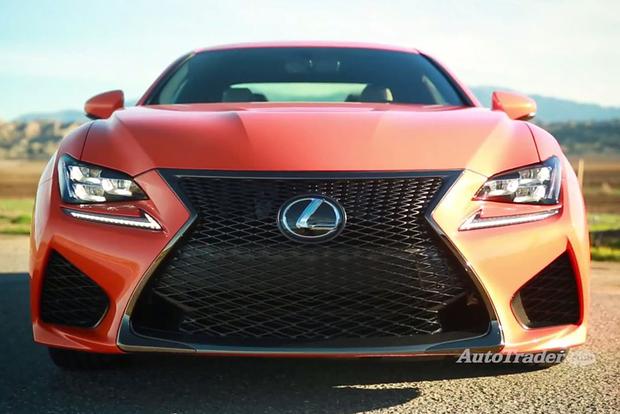 The 2015 Lexus RC F coupe is Japan's answer to the BMW M4. With the way things have gone lately, the BMW's no longer a no-brainer choice in its class. Did you know that the turbocharged M4 plays fake engine noises through its speakers? The door is definitely open, and the RC F's non-turbo V8 happens to generate a stirring race-car soundtrack that's 100 percent natural. Here are five more reasons why the RC F is a world-class ride.
Sizzling V8
The RC F's 5.0-liter V8 is a hand-me-down from the old IS F super-sedan, but it's pumped up to 467 horsepower for RC F duty, which is a 51-hp improvement. This is a gem of a motor, with hair-trigger responses and power everywhere on the tach. Turbos are increasingly the norm, so it's refreshing to find a good old-fashioned V8 in Japan's finest. If you take it to redline, you'll be glad you skipped the turbo route and went for the real deal.
Singular Styling
The Lexus spindle grille is radical to begin with, but the RC F takes it to a new level. And the back has angled quad exhaust pipes and dramatic cutlines. Lexus went for in-your-face with this model, and they nailed it. If there's a car in showrooms right now that gets more attention on the road, it probably has a prancing horse logo on it.
Sleek Cabin
When you've got an exterior as wild as the RC F's, the interior is often a letdown. But in this case, we actually like it better than what's outside. The dashboard is steeply angled for a cockpit feel, and the ultra-supportive sport seats reinforce the theme. The latest version of Lexus's Remote Touch Interface seems to work well, aided by an intuitive touchpad controller. Don't put anyone you like in the back seat, though; it's best left for cargo.
Track-Tested Handling
Tested extensively on Germany's famed Nurburgring raceway, the RC F is ready for any track, any time. With a unique sport suspension riding on 19-inch tires, this Lexus gets better the faster you go. But don't get the wrong idea; it's still plenty comfortable on the street. If you're looking for a true dual-purpose performance machine, your ride may have just arrived.
Lexus Reliability
German performance cars have a reputation for being a little finicky. Lexus, on the other hand, continues to be a reliability leader. That helps keep resale value high, and it also means less time in the shop, allowing for more time on your favorite roads.
AutoTrader Says
The 2015 Lexus RC F is a no-apologies performance coupe. If you're considering the usual German suspects, don't forget about the Lexus with its 467 hp.