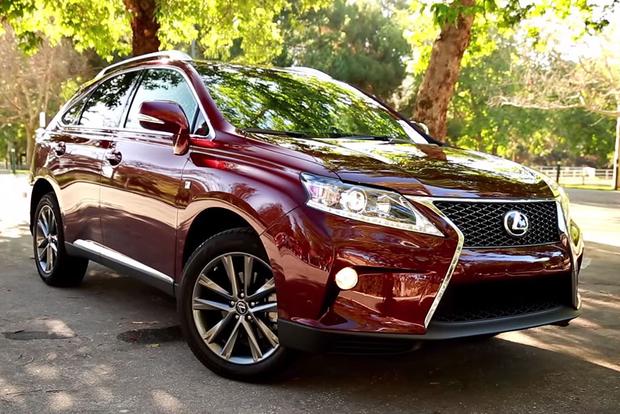 The 2015 Lexus RX 350 is a no-brainer. One of the original midsize luxury crossovers, it continues to offer a tempting blend of comfort, quality and class. Here are five reasons why the familiar Lexus RX is a best seller year after year.
Perfect Size
We're seeing plenty of smaller crossovers these days, as well as lumbering 3-row beasts. So where does that leave the 2-row midsize RX? Right where it wants to be. Big enough to feel safe but not so big that it's cumbersome, the RX is always in its element.
Sterling Lexus Reputation
When you hear the word Lexus, you most likely think of the company's reputation for dependability. With the complexity of today's cars, reliability can be questionable, but the RX has decades of Lexus quality behind every moving part. That also gives resale values a boost. There will always be a market for a well-maintained Lexus, no matter how many miles you put on it.
Stellar V6 and Hybrid Powertrains
The RX 350 packs a 3.5-liter V6 that offers ripping acceleration and a cool 25 miles per gallon on the highway. There's also the RX 450h, one of the few hybrids in this segment, which uses a gas/electric hybrid system to achieve 30 mpg.
Carlike Driving Experience
Underneath, the RX shares a lot with the Lexus ES sedan, and both cars drive similarly. They're both smooth and silent, with the friction-free character that defines top luxury cars. Of course, it also gives you the high seats and commanding visibility of a midsize SUV.
Versatile Interior
The quality of the RX's interior is well-known, but people are less aware of how versatile it is. The second-row seats slide and recline to accommodate all sizes, while flipping down the seatbacks gives you 80 cu ft. of space -- that's huge!
Autotrader Says
For 2015, the RX 350 has a standard 7-inch screen and rearview camera. If you want to filter out all the static and go with what works, the 2015 Lexus RX 350 is an easy choice. No wonder folks still can't get enough of this great SUV.