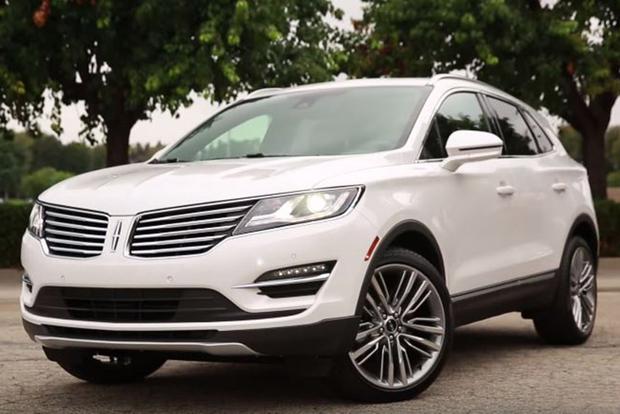 The 2015 Lincoln MKC is an all-American wake-up call to all those overseas luxury brands. Historically, the compact-luxury-crossover segment has been dominated by Europe and Japan, but this Lincoln gives the home crowd something to cheer about. With turbocharged power under the hood and the latest tech features inside, the MKC gives up little -- if anything -- to the perennial segment leaders. Here are five reasons why the MKC is making its mark on our roads.
Lovely Looks
Anything with a Lincoln badge has to have a big ol' grille on the front, and the MKC is happy to oblige. But this one's quite subtle, with a dual-wing design and a classy Lincoln logo in the middle. From the side, the MKC looks taut and muscular, and out back it has a classic full-width light bar. No two ways about it: This is a great-looking rig, and we'd also say it's more distinctive than most.
Adept Handling
If you check the MKC's ancestry, you'll find the Ford Escape, and that's good news. The Escape is one of the most nimble compact crossovers on the road, and the athletic MKC picks up right where its cheaper cousin left off. Both vehicles trace their roots back to the excellent Ford Focus, so the MKC's responsive, sporty handling should come as no surprise. If you get the optional continuously controlled dampers, you can even change the ride quality from sport to comfort at the touch of a button.
Appealing Technology
Every MKC comes standard with an 8-inch touchscreen and Lincoln's version of MyFord Touch, which means it has Microsoft intelligence built right in. Add the Technology package, and you get adaptive cruise control and even a self-parking system. There's a Lincoln smartphone app too, along with an available 14-speaker surround-sound stereo -- pretty cool stuff.
Two Turbocharged Engines
The MKC's standard engine is the 2.0-liter turbo 4-cylinder from the Escape, and with 240 horsepower and 270 lb-ft of torque, it's all most folks will need. Equipped with standard front-wheel drive, it should return 29 miles per gallon on the highway, too. But if you want some extra spice, try the optional 2.3-liter turbo 4-cylinder engine, which is rated at 285 hp and shared with the awesome Ford Mustang. All-wheel drive comes standard on the 2.3 (it's optional on the 2.0), and you can definitely feel the difference when you plant your right foot.
Versatile Interior
Fold down the MKC's rear seatbacks, and you'll have 53.1 cu ft. of cargo space, which is more than enough for a Home Depot run. Want a power lift gate with a foot sensor? Just get the Reserve package. Luxury crossovers usually don't lead strenuous lives, but when push comes to shove, this Lincoln can actually get some work done.
Autotrader Says
Finally! A no-excuses compact luxury crossover from an American brand. You simply have to go see what the 2015 Lincoln MKC is all about.