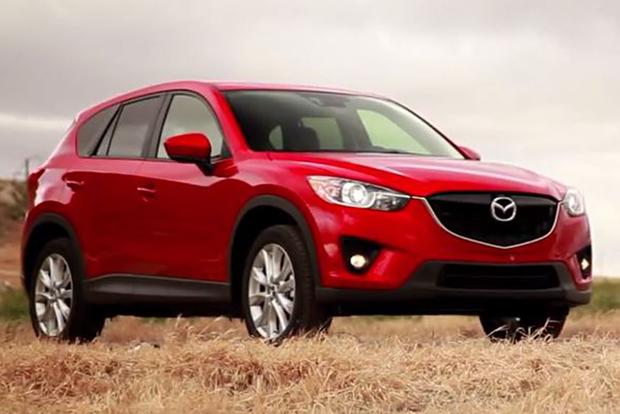 Crossover SUVs usually aren't associated with good fuel economy, but the 2015 Mazda CX-5 is out to change that perception. With a choice of two fuel-efficient engines, the CX-5 is as frugal as many sedans. Here are five reasons that the 2015 CX-5 makes our must-drive list.
Efficient yet Exuberant
Higher trim levels come with a 2.5-liter 4-cylinder engine, and it's an impressive performer. Infused with Mazda's SkyActiv technology, this upgraded engine gets an Environmental Protection Agency-rated 32 miles per gallon on the highway with front-wheel drive. The base 2.0-liter 4-cylinder actually gets the same 32 mpg, but its rating for combined driving jumps from 27 mpg to 29 mpg. Either way, that's almost unheard of for a crossover SUV, especially one with up to 184 horsepower on tap. Paired with the responsive 6-speed automatic transmission, the 2.5-liter engine is pretty quick, and the 2.0-liter four can even be matched to a 6-speed manual.
Refined Sense of Style
The CX-5's sheet metal is curvaceous but not audacious. You can tell there are sporting pretensions here. Mazda's not in your face about it, and we like that. Inside, the restrained dashboard design includes simple information displays, user-friendly controls and high-quality materials that evoke BMW's best. Some of the CX-5's rivals seem like they're trying too hard, but this Mazda has an effortless kind of cool.
Sophisticated Drive
Mazda's commercials tend to involve winding roads and aggressive driving. Some shoppers might wonder if the CX-5 is too sporty for its own good. Fortunately, that's far from the truth. Mazda has tapped into the best of both worlds here, providing athletic handling and a well-damped ride without compromise. You won't find another crossover that matches the CX-5's dynamic skill set.
Roomy, Well-Equipped Cabin
Although the CX-5 is known as a compact crossover, its interior is anything but. The elevated back seat provides generous legroom and headroom; you'll likely be quite pleased unless you need three rows. Front passengers are treated to ample space all around, and available luxuries include dual-zone automatic climate control, heated sport seats with 8-way power adjustability for the driver and a 9-speaker Bose audio system. You get a lot for the money with this Mazda.
Capacious Cargo Hold
One major advantage of most crossovers is their cargo-hauling ability, and the CX-5 doesn't disappoint. There's a robust 34 cu ft. of space behind the rear seats, while folding down the rear seat backs creates a cavernous loading area of 65.4 cu ft. For a crossover of modest size, those are some serious hauling credentials. If you need to pack a few long items, by the way, the rear seat backs are split 40/20/40 and fold independently, so you can keep a seat or two open for passengers at the same time.
AutoTrader Says
The 2015 Mazda CX-5 is the rare compact crossover that has hardly any weaknesses. Other models may come to mind first, but they'll be hard-pressed to match the Mazda's all-around excellence.