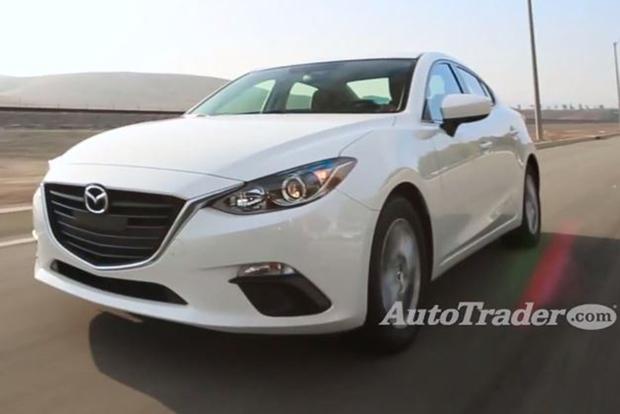 The Mazda3 has always been a hidden gem in the economy-car segment, delivering extra performance for the price. But it seems like Mazda's always playing second fiddle to sales leaders such as the Honda Civic and Toyota Corolla. If more shoppers gave the 2015 Mazda3 a chance, they might realize that it's one of the most engaging models on the market. Here are five reasons why the 3 should be your number one.
Frugal Yet Frisky
Everyone likes to save some money at the pump, and Mazda has really turned the corner in this regard. The company had a reputation for mediocre fuel economy back in the 2000s, but that stereotype is seriously outdated today. How does 41 miles per gallon strike you? That's what the Mazda3 sedan with the base 2.0-liter engine gives you on the highway, whether you get the 6-speed automatic transmission or the sporty 6-speed manual. This little motor packs a punch, too: If you wind it out to redline, it's strong and smooth all the way. For those who want even more power, the 2.5-liter engine is nearly as frugal, yielding up to 39 mpg.
Premium Interior
Compact cars aren't supposed to be upscale, but the Mazda3's cabin breaks the mold. The dashboard materials are top notch, and the sporty gauges and controls wouldn't look out-of-place in a BMW. That goes for the steering wheel, too, which looks sophisticated and feels great in your hands. Not bad for a so-called economy car.
Impressive Technology
Most Mazda3s come standard with Bluetooth and USB connectivity, but that's expected these days. What's pleasantly surprising is the available 7-inch touchscreen display, which also comes with a classy control dial behind the shifter. It reminds us of Audi's MMI setup, or BMW's iDrive. In fact, the volume knob next to that control dial is a page straight out of Audi's book. Other available features include adaptive cruise control and a tight-sounding 9-speaker Bose audio system.
Two Body Styles
Although most cars in this segment are sold only as sedans, the 3 is also offered in a versatile hatchback configuration. The hatchback does cost a bit more, but it can haul 47 cu ft. of stuff, which is more than three times the sedan's trunk capacity. Some say that the hatchback looks better, but we think the sedan is a head-turner, too. Either way, it's nice that Mazda gives you the choice.
Engaging Handling
If you think economy cars are boring to drive, you have another thing coming at your Mazda dealer. The Mazda3 is so capable and responsive that it's almost like driving a sporty little coupe. We're not saying it's a 4-door MX-5 Miata, exactly, but you can feel the family connection. Once you get behind the Mazda3's wheel, you can't help but notice the athletic way it goes about its business.
Autotrader Says
Is the 2015 Mazda3 the best economy car money can buy? It's definitely in the running. You have to try this stylish Mazda for yourself.