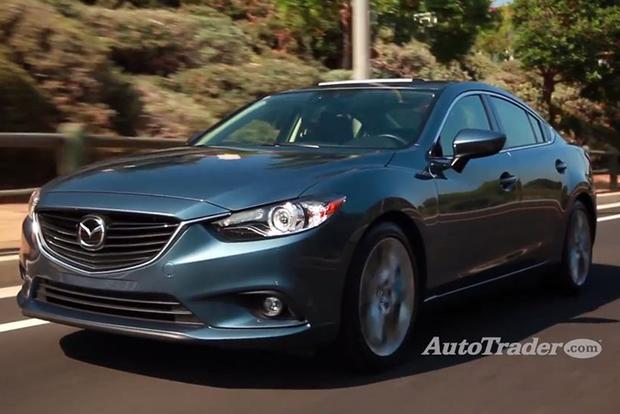 The Mazda6 has always been a sports car among midsize sedans, but the 2015 Mazda6 is finally a family hauler that delivers on all fronts. The first-generation 6 was too small inside to compete with the Honda Accord and Toyota Camry, while the overgrown second-generation model always looked and felt a bit ungainly. The current third-generation Mazda6, though, is perfectly sized for this segment, and its handling is more capable than ever. Here are five reasons why this year's Mazda6 might be the best family sedan you can buy.
Sophisticated Style
If you try to name a family sedan that's genuinely good-looking, you might end up drawing a blank. But check out this Mazda. By the standards of the family-friendly set, it's a knockout. Yes, it needs those shiny 19-inch wheels to look fully proportional, and you can't get them on the base Sport model, which is stuck with 17 inches. But otherwise, we can't find a single line or curve that's out of place. This is the rare midsize sedan that you might buy based on looks alone.
Classy Cabin
If you judge a car by how many high-tech gadgets it has, you're probably not going to dig this Mazda. It doesn't have a cutting-edge infotainment interface like some rivals. But if you appreciate subtle, sophisticated design and quality materials, the 6 should be a pleasant surprise. Mazda's interior decorators went for elegant simplicity in this case, and they hit the nail on the head. The interior is a pleasant place to be, with straightforward gauges that remind us of BMW's iconic instruments.
Great to Drive
One thing that the Mazda6 has always been good at is going around corners, and the current model inspires even more confidence. Body roll is minimal for this class, and the steering response is downright sporty. But the 2015 Mazda6 isn't just about athleticism; it also offers a supple, substantial ride that gives it an upscale feel. Even if you never push the Mazda6 to its limits, you'll still enjoy the refinement it provides. That's an unusually satisfying combination of comfort and control, especially at such a reasonable price.
HP, Meet MPG
There's only one engine on tap for now, a 2.5-liter 4-cylinder engine that's good for 184 horsepower. When you put your right foot down, you'll be impressed; those horses are all you need in real-world driving. Moreover, the SkyActiv four delivers in a big way on fuel economy. If you get the Grand Touring trim level with its i-ELOOP auto stop/start system, you'll see 28 miles per gallon in the city and an incredible 40 mpg on the highway. That's better than a lot of compact sedans can manage.
Plenty of Room
Although the Mazda6's chiseled styling makes it look trim and taut, this is a generously proportioned car underneath, with ample passenger space in the front and rear. Four 6-footers can hop in and enjoy the ride for hours. If roominess is what you're after, the 6 has you covered, even though it doesn't feel like a big car from behind the wheel.
AutoTrader Says
The 2015 Mazda6 isn't just a great family sedan. It's a great sedan, period. If you're shopping at this price point, Mazda's midsizer is a must-drive.