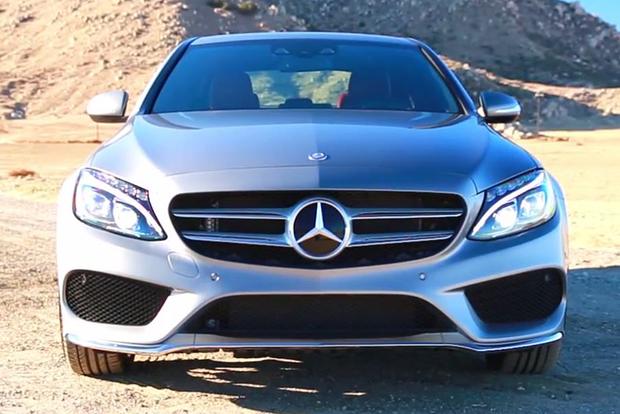 The all-new 2015 Mercedes-Benz C-Class is the latest so-called Baby Benz sedan, and historically, that hasn't always been meant as a compliment. Some say Mercedes is better at building big cars, whereas BMW's the master of smaller sport sedans. But Mercedes has taken their gloves off with the latest C-Class, and the result is a fully competitive car that just might give BMW something to worry about. Here are five reasons why this Baby Benz is all grown up.
S-Class Styling
The C-Class used to look like the executive-grade S-Class back in the '90s, and with the current model, Benz is getting back to that family resemblance. From every angle, the C-Class looks like a downsized S-Class, and the proportions are just perfect. Check out the regal, upright grille, and how the curves keep flowing back to the tapered tail with LED lighting. This is easily the most upscale-looking car in its segment.
Power and Efficiency
Even the base C300 has a capable turbocharged 4-cylinder engine rated at 241 horsepower, and it gets 31 miles per gallon on the highway with all-wheel drive. But if you ask us, our C400 test car is the way to go. It cranks out 329 hp from its twin-turbo V6 yet still gives you 29 mpg hwy. That's great fuel economy for such a fast car, and believe us, when you unleash all 329 horses and 354 lb-ft, the C400 moves out in a hurry.
Advanced Dynamics
Mercedes knows most owners don't take their cars to weekend track days, so the engineers gave the C-Class a truly regal ride. Nothing upsets this car's composure; it's a true luxury experience. At the same time, the handling is more capable than ever, with four selectable drive modes. So if you do want to have some fun on a back road, the C-Class is ready to go. You can even get the optional AIRMATIC air suspension if you want to float cloud-like over rutted roads.
Exceptional Interior
Clearly, the S-Class inspiration is more than skin-deep. The cabin in the C-Class is impeccably trimmed, with exquisite materials and a sleek, modern look that departs from Benz's conservative norm. There's nothing entry-level about it. Also, the COMAND infotainment system now has a cool touchpad interface with smartphone-like functionality, yet it hasn't lost its user-friendly interface with handy menus on the top and bottom of each screen.
Just-Right Size
The C-Class is big enough for four adults, and there's plenty of room in the trunk. Yet it always feels nimble from behind the wheel, and it's a cinch to park. This is a car designed with contemporary lifestyles in mind, it's a perfect fit for almost any occasion. In fact, we wonder if some E-Class shoppers will choose the cheaper, more agile and arguably more stylish C-Class instead.
AutoTrader Says
The 2015 Mercedes-Benz C-Class is the rare car that's good at just about everything. Take a test drive and see if you agree that it's the best Baby Benz yet.