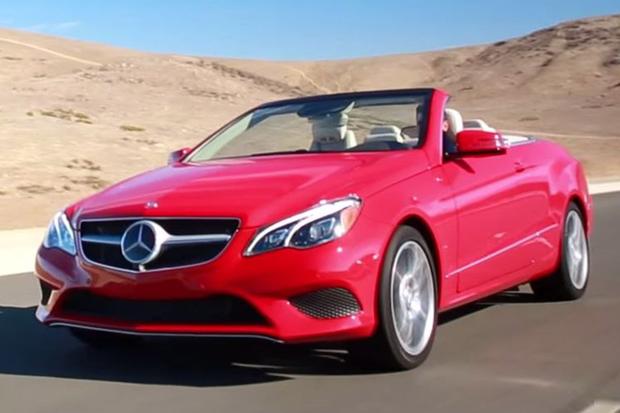 The 2015 Mercedes-Benz E400 Cabriolet is one variation on the wide and wonderful E-Class theme. Based on that high-class midsize sedan, the E400 Cabriolet chops the top for sophisticated al fresco fun. Join us as we share our five favorite reasons to commune with nature.
Gorgeous Open-Top Styling
Even before you jump in, the E400 Cabriolet looks like it belongs on the French Riviera, like it's the product of a world where everything is more chic and stylish. This car oozes class in an unmistakable Mercedes-Benz way and looks elegant with the roof up or down.
Turbocharged Power
The E400 is new for 2015 and brings with it a fresh 3.0-liter V6. This engine uses a twin-turbo setup to make a forceful 329 horsepower and 354 lb-ft of torque. That's enough muscle for almost anyone, yet it can still give you 28 miles per gallon on the highway.
A Cabriolet for All Seasons
Like running shoes aren't just for marathons, a quality convertible isn't just for summer. The E400's front seats are heated. And the multi-layered fabric top is tough enough to insulate against wind noise and the elements, but still flexible enough to fold into a small area. This, in turn, allows for better trunk space than you'd get with a retractable hard top.
Airscarf
Yes, it's an optional extra, but the E400's Airscarf system has little vents set into the front seats that blow warm air on your neck. So you can still enjoy those crisp, bright winter days to the fullest -- without catching a cold.
First-Class Cabin
An essential ingredient of all Mercedes-Benz cars is a superb cabin with top-notch materials, smart ergonomics and craftsman-like build. The E400 Cabriolet doesn't disappoint. Leather upholstery and wood trim come as standard, along with the excellent COMAND infotainment system. The square analog clock in the center console is a nice finishing touch.
Autotrader Says
The 2015 Mercedes-Benz E400 Cabriolet replaces the E350 soft-top and raises that great car's game by several notches.