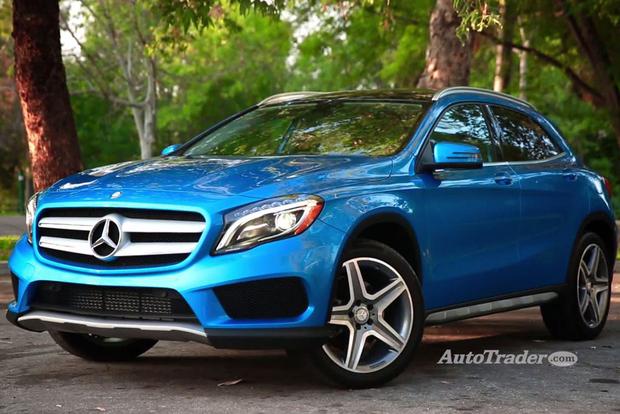 Is it a crossover or a hatchback? You might hear that question a lot if you drive a 2015 Mercedes-Benz GLA-Class. The answer is that it's somewhere in the middle, giving you a crossover's high driving position and a hatchback's tidy handling. Of course, it also has that built-in prestige that comes with the 3-pointed star on the grille. If that sounds like a tasty mix, we have five reasons why this baby Benz could be right for you.
Reasonable Price
The GLA-Class is based on the compact CLA sedan, and it's similarly affordable, too. The starting price for a GLA250 is well under $35,000, and it comes well equipped, including alloy wheels, power seats and COMAND infotainment. That's pretty affordable for a Benz. Naturally, you can add all sorts of optional features, but it's nice that they leave it up to you rather than forcing you to pay more up front.
Impressive MPG
The GLA250 starts with front-wheel drive, which maximizes your fuel economy. According to the Environmental Protection Agency, the GLA250 yields 25 miles per gallon in the city and 35 mpg on the highway, making it as frugal as some small sedans. Add 4MATIC all-wheel drive and you still get 24 mpg city/32 mpg hwy, which is mighty high for an all-wheel-drive crossover. Efficiency is definitely a GLA250 highlight.
Perky Performance
The GLA250 comes with a turbocharged 4-cylinder engine that makes 208 horsepower, but just as importantly, there's also 258 lb-ft of torque. That's enough to hit 60 miles per hour in 7.1 seconds. Of course, the bonkers GLA45 AMG version grabs 60 mph in 4.8 seconds with its 355-hp engine, but for most folks, the GLA250's acceleration will be plenty strong.
Sporty Driving Feel
Although the GLA crossover sits higher than the CLA sedan, it has largely the same athletic feel on the road. There's not much body roll, and the GLA responds quickly to steering inputs. Not surprisingly, the ride is firm, but it's supple enough for most surfaces. If you want a sporty vibe in your crossover, the GLA is on point.
Upscale yet Practical Interior
The GLA's cabin is trimmed in mostly high-quality materials, and it looks classy, too. But it's not just about luxury in here. You can fold down the rear seatbacks to open up about 43 cu ft. of cargo space, so it's much more versatile than any sedan. For folks who haul larger items or lots of luggage from time to time, that's a big deal.
Autotrader Says
The 2015 Mercedes-Benz GLA-Class may be half-crossover and half-hatchback, but its personality is 100 percent Mercedes. When you consider the GLA250's bargain pricing, it starts to make a lot of sense.