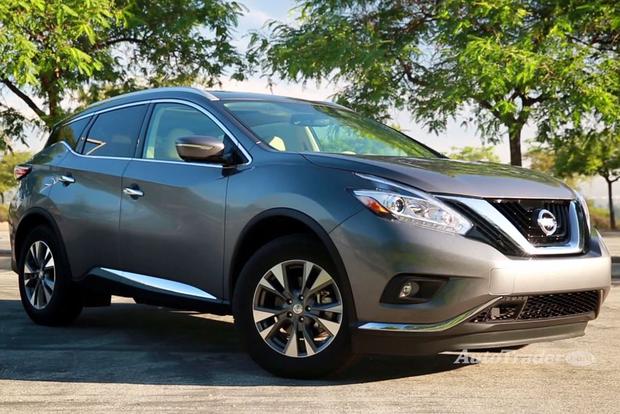 Since its inception many years ago, the Murano has been known for pushing the envelope, and the 2015 Nissan Murano is the latest example of this groundbreaking midsize crossover SUV. With its bold styling and classy, high-tech interior, the current Murano is more daring than ever. You hear this all the time, but in the Murano's case, it's true: There's nothing else like it on the road. Here are five reasons why the 2015 Murano is a must-drive midsize crossover.
Show-Stopping Style
Although the original Murano had an avant-garde look, the second-generation model was more conservative. So we're glad to see that today's Murano is back to its fashionable self. With its jagged headlights, bulging side panels and winged taillights, this Nissan's got it going on. It might win your heart based on looks alone, and we can't think of any other midsize crossover that fits that description.
Futuristic Cabin
Inside, the Murano looks more like a chic urban condo than a car. From the light wood trim to the ultra-sleek center stack, this is an interior straight out of the future. We'll go out on a limb and call it the best-looking interior in its segment. And its materials are top quality, too. The more we cruise around in this Nissan, the more it feels like a full-on luxury crossover without the pretentious branding.
Comfortable Seats
Nissan's been using NASA-inspired zero-gravity seats in a lot of its vehicles, and you'll notice the difference right away. There's support in all the right places, and that goes for both the front seats and the rear outboard positions. It's as if they brought in a chiropractor and made sure that every contour met with the doctor's approval. Once you go with zero gravity, you might not go back.
Dependable Power
One thing that's not new about the latest Murano is its 3.5-liter V6, but there's a good reason for that. This is a dependable motor that Nissan's been making for many years, and it's still plenty powerful by current standards. There are ample reserves for passing and merging, and you get a nice growl when you give it the spurs. Plus, the standard continuously variable transmission means you'll never feel a shift.
Luxurious Ride
With all the emphasis on sporty handling these days, it's a relief to find a crossover that focuses on comfort. The Murano certainly feels secure and precise on the road, but what you really notice is its supple, quiet ride. In fact, the Murano rides better than some actual luxury crossovers. Once again, we're left thinking that the 2015 Murano is a luxury crossover, Nissan branding notwithstanding. It's not a stretch to imagine this rig with an Infiniti badge on the nose.
Autotrader Says
Think about it. When's the last time a midsize crossover was genuinely cool? If you're looking for a new crossover, you should see what the 2015 Nissan Murano has to offer.